A persistent cold front has brought wild winds and dangerous surf conditions to NSW this week, while the state's skifields are firing up the chairlifts early following a dumping of snow.
The official ski season begins on June 11, but Perisher Ski Resort has decided to launch on Saturday, when a second cold front is due. So far this week, more than half a metre of snow has fallen in the Snowy Mountains, with more expected on Monday.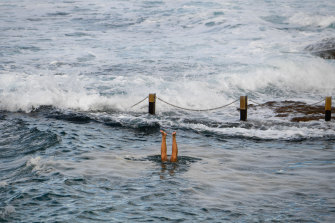 A swimmer braves the waves and plunges into the icy water at Mahon Pool, Maroubra. Credit:Peter Rae
A high-pressure system arrived over NSW on Thursday, boosting the average Sydney temperature to a high of 18 degrees and ending the snow dump. According to the Bureau of Meteorology, a series of cold fonts will then cross southeastern Australia from Saturday, bringing a return of the cold and wind that may result in more snowfall.
Before the next front hits, temperatures in Sydney are expected to drop as low as 8 degrees on Friday and Saturday, with north to northwesterly winds predicted to hit in the evening and possible showers for the south and west of NSW.
A hazardous surf warning remains in place for Thursday and Friday across the NSW coast including Macquarie Coast, Hunter Coast, Sydney Coast and Illawarra Coast and the Batemans Bay coast, where waves reached above three metres on Thursday.
By next Wednesday, the bureau expects Sydney to shiver through a low of 7 degrees with northwesterly winds of up to 30 km/h to return.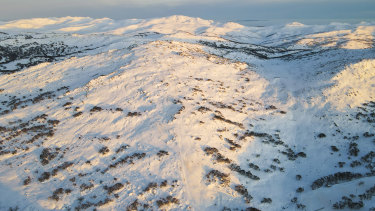 The Snowy Mountains received close to half a metre of snow on Wednesday after a persistent cold front sent temperatures plummeting.Credit:Perisher Media
Police are advising people to consider staying out of the water and avoid walking near surf exposed areas.
"The good thing about the chill is that it's going to be a cracking start to the ski season," Weatherzone meteorologist Ben Domensino said. "The back-to-back weather systems mean it'll be epic for those going in what's normally a risky time to ski."
The ski slopes are benefiting from above-average precipitation that made last autumn the wettest on record.
In 2021, the first dump of snow arrived on June 9 and didn't stop all season. Despite the consistently good snow, the season was truncated thanks to the onset of the Delta variant of COVID-19 and subsequent NSW lockdowns.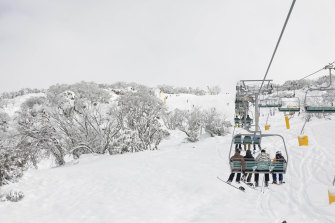 The Snowy Mountains received close to half a metre of snow on Wednesday after a persistent cold front sent temperatures plummeting.
The cost of accommodation near the snowfields now exceeds pre-pandemic levels, according to new data from travel agent KAYAK. The average nightly price from June to the end of September in Thredbo has risen 10 per cent since 2019 to $584 while Perisher has climbed 23 per cent to $666.
Car hire dealerships have benefited from the uptick in skiing, soaring 98 per cent to $102 per day this winter.
On Wednesday, NSW Police issued a reminder to snow-goers to take caution after two men had to be rescued after becoming disorientated while hiking in the Snowy Mountains on Sunday.
The men were equipped with suitable clothing and shelter but were not carrying appropriate safety equipment or a Personal Locator Beacon. The men were taken to Thredbo after being located on Tuesday.
Monaro Police District Commander Superintendent John Klepczarek said the incident is a timely reminder for people to remain vigilant and register their intention with authorities.
"We've seen snow start to fall over the past week, and we are susceptible to rapid changes in weather across the Snowy Mountains, so it's really important that people follow necessary precautions and keep friends, family and authorities aware of their intentions," Klepczarek said.
Domensino said the co ld front responsible for the wild wind that lashed the state this week will be replaced by a warmer front that should bring some calmer weather before it is quickly followed by another intense cold front that may bring more snow.
According to snow forecasting site Snowatch, the incoming cold front could bring falls of 20 to 35 centimetres into next week, with Sunday and Monday predicted to be the heaviest days.
The Morning Edition newsletter is our guide to the day's most important and interesting stories, analysis and insights. Sign up here.