The Reserve Bank is giving federal and state governments the green light to dramatically lift spending and run budget deficits to get the economy out of the coronavirus recession, saying it will be the only way to slash unemployment.
Bank governor Philip Lowe, in a major departure from the RBA's long standing concern about government spending and its potential to "crowd-out" private investment, said on Friday said the states in particular should not worry about possible credit rating downgrades and instead boost expenditure.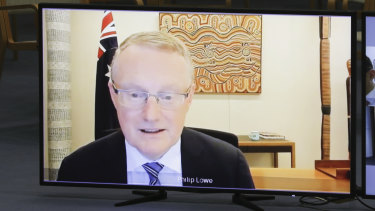 RBA governor Philip Lowe has given federal and state governments the green light to spend their way out of the coronavirus recession.Credit:Alex Ellinghausen
The Business Council of Australia this week urged the federal government to directly support key industries, saying it would not "cut the mustard" for the government to stand by through the post-recession recovery.
Dr Lowe, giving evidence to a parliamentary committee, said the bank believes record low official interest rates may not be increased for between three and five years given expectations of subdued inflation and relatively high unemployment.
The bank is forecasting the jobless rate to reach 10 per cent by year's end and remain above 7 per cent until at least early 2023.
The fresh spread of coronavirus across Victoria has pushed back the bank's own broader economic forecasts, with the economy now not expected to start recovering from the pandemic recession until the December quarter.
Dr Lowe said with the RBA unable to do much more to boost the economy, the debate now was about how much governments spent to get people back to work.
"Fiscal spending will get people back to work," he said.
"Government policies that support people's incomes, that add to aggregate demand through direct government spending, and that make it easier for firms to hire people all have important roles to play."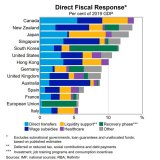 RBA analysis of wealthy countries' direct fiscal response to the coronavirus pandemic.Credit:RBA International Economic Conditions report, August 2020
Research released this month by the RBA ranked Australia 10th of 14 rich nations in terms of fiscal support for their economies through the current crisis and shows Australia has committed almost nothing towards post-recovery works. New Zealand has committed about 6.5 per cent of its GDP to post-recession recovery which would amount to more than $120 billion in Australia.
Dr Lowe said as governments could now borrow at record low interest rates there was no reason for them to hold back from loosening their purse strings, adding they should be more worried about unemployment than a credit downgrade.
"I have no concerns about the states being able to borrow more money," he said.
Government spending will be necessary to hold up the construction sector. Treasury officials revealed to a parliamentary inquiry the number of dwelling starts are expected to fall to 138,000 this financial year from 170,000.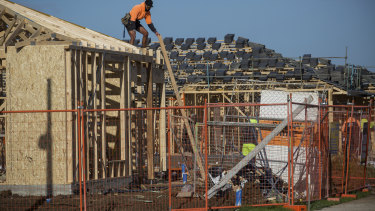 Treasury has downgraded its dwelling construction forecasts for 2020-21, signalling a concern for jobs across the sector. Credit:Paul Jeffers
Federal government debt on Friday reached an all-time high of $749.6 billion with another $7.5 billion to be sold next week.
The federal government is expected to use its October budget to outline a recovery package that is likely to feature early personal tax cuts, an investment allowance for business and extra spending on infrastructure.
Prime Minister Scott Morrison said any government spending had to be done carefully and with a clear objective while calling on the states to do more.
Loading
"There is no doubt that the Commonwealth government cannot do all the fiscal heavy lifting on its own," he said. "Even with our much greater revenue-raising capacities, even when you take that into account, we are a long way out in front [of the states]."
Dr Lowe again said it was very unlikely the Reserve Bank would follow the lead of central banks overseas and take official interest rates negative.
That prompted an exchange with Labor frontbencher and former economics academic Andrew Leigh who said it appeared the bank was facing a choice between a year of negative interest rates or a decade at zero.
"In the fact of the RBA's own forecast failure to meet its inflation target until at least 2023, it seems like negative rates should be on the table," he said.
Shane is a senior economics correspondent for The Age and The Sydney Morning Herald.
Jennifer Duke is an economics correspondent for The Sydney Morning Herald and The Age, based at Parliament House in Canberra.
Loading