A NSW District Court jury has found Guy Sebastian's former manager, Titus Day, not guilty of three counts of embezzlement by direction, and has been told by the judge to later return not guilty verdicts for dozens of alternative stealing charges.
Day, 49, is on trial after pleading not guilty to 50 counts of embezzlement totalling almost $900,000, received by virtue of his employment as Sebastian's manager, and 50 alternative charges of larceny.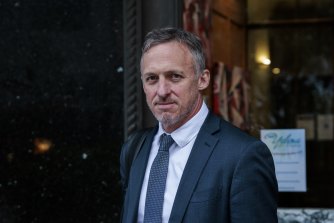 Titus Day pleaded not guilty to 50 counts of embezzlement totalling almost $900,000.Credit:Brook Mitchell
The Crown alleges Day defrauded his long-time client of payments, in whole or part, relating to royalties, income from musical performances such as Taylor Swift concerts and ambassadorship fees.
On Thursday, Judge Timothy Gartelmann said he had determined "the accused has no case to answer on certain counts in the indictment", as questions of law arose when the Crown case closed.
Loading
Regarding three counts of embezzlement and their larceny alternatives, the judge determined "there was simply no evidence at all that the accused did the act alleged to constitute any of these offences", and said he was "obliged" to direct the jury to return not guilty verdicts on those counts.
The charges for which not guilty verdicts were directed, and their alternatives, related to royalty payments between 2014 and 2020 of $13,380.60, $936 and $361.34.
"I have determined, also, that as a matter of law the Crown case on all the alternative counts cannot succeed," Judge Gartelmann said. "In due course, I will direct you to return verdicts of not guilty on these counts too."
The judge said he could not take those verdicts until verdicts were returned on the remaining 47 embezzlement charges.
Loading
"I am telling you this ... so you can ignore, from now on, the alternative counts and concentrate on the principal counts," he said.
Judge Gartelmann stressed it did not mean he had formed a view about the strength of the Crown case, as "that is not a question for me to decide".
"It means only that I've determined that as a matter of law the alternative counts cannot succeed."
The defence did not call any evidence in its case. Crown prosecutor David Morters, SC, and Day's barrister Dominic Toomey, SC, are yet to deliver their closing addresses.
The Morning Edition newsletter is our guide to the day's most important and interesting stories, analysis and insights. Sign up here.