Investors are ready to pump $100 million-plus into the office and retail sectors with two key assets being placed on the market.
One is the Blaxland Home Centre, a prominent Large Format Retail precinct in Sydney for about $50 million.
Situated in the thriving south west Sydney growth corridor of Campbelltown, Blaxland Home Centre occupies a significant 4.17 ha site in total, comprising four separate lots and titles, allowing maximum repositioning potential and a varied exit strategy.
It is managed by Intergen Property Partners and has an 98 per cent occupancy rate and its income is secured by national retail tenants including Fantastic Furniture, DeRucci and Sleeping Giant.
It is being brought to market by James Wilson and Alex James-Elliott of Colliers International.
Mr Wilson said in 2018, the Large Format Retail sector recorded $1.03 billion worth of investment sales across 21 assets, with about 20 per cent of these taking place in NSW.
''Investors look to acquire Large Format Retail assets in areas with high residential growth, this meets that requirement given location in significant growth corridor that will be buoyed by significant public infrastructure investment,'' Mr Wilson, national director, retail investment Services at Colliers International, said.
Alex James-Elliott, executive, retail investment services at Colliers International said Western Sydney is one of the fastest growing regions in Australia and is expected to continue to grow rapidly.
In the office market, Charter Hall will also take advantage of the strong western Sydney area with the sale of a tower at 7 Murray Rose Avenue, which could reap more than $50 million.
The asset, which recently had an extension of a significant lease by Thales Australia until 2032, was previously owned by an unlisted Folkestone fund, which Charter Hall acquired in 2018.
It is in the expanding Sydney Olympic Park zone, which is earmarked for significant growth in coming years as part of the area's Master Plan 2030, covering the major expansion of the precinct with current transport infrastructure projects including WestConnex, Parramatta Light Rail and Sydney Metro West.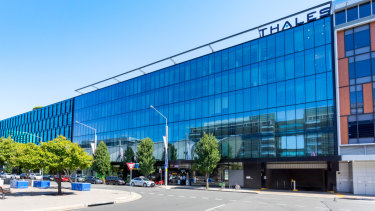 Agents appointed to the sale, Knight Frank's Tyler Talbot and Graeme Russell in conjunction with Savills' Matthew Dunn and Tim Grosmann, said the asset is an A-grade commercial office building, comprising 5,931 square metres of net lettable area, split between office space and ground floor retail.
According to Knight Frank's Tyler Talbot, the property is expected to receive strong interest from local and offshore investors due to its strong tenant covenant and prime location.
''The asset is strategically positioned opposite the Sydney Olympic Park Train Station and provides secure long term cash flow being underpinned by a long lease to strong covenant Thales Australia,'' Mr Talbot said.
Savills' Matthew Dunn said as investors speculate what the outlook for the property market will be in 2019 an asset such as this with a 12-plus year weighted average lease expiry, will allow an investor ''to weather any type of downturn''.