During these times of global uncertainty Ian Fairweather has found comfort in gazing out of his window at a mob of kangaroos that graze in the grassy bushland next to his Lilydale home.
"When we first moved here we thought 'How good is this?'," he says. "We have grandkids who absolutely adore them. As soon as they arrive they're straight to the back window to see if the roos are out there."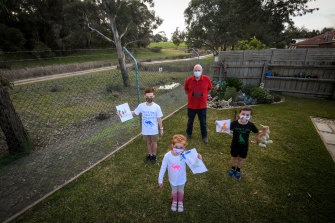 Lilydale resident Ian Fairweather and his grandchildren, Heidi, 4, Sammy 7 and Jack 11 in his backyard on Thursday.Credit:Eddie Jim
For residents in the Kinley housing estate this family mob of about 30 eastern grey kangaroos has been a welcome presence for many years. But they are likely to soon be culled as their habitat is developed for housing.
The prospect is distressing for residents and their children not least because the developer says it put forward alternative proposals – such as relocation and sterilisation – to the Department of Environment, Land, Water and Planning, only to have them knocked back.
Veterinarian Natasha Bassett, who works as an animal ethics expert at La Trobe University, is leading a group that wants to stop the cull.
With the support of Animal Justice MP Andy Meddick, the group has submitted a detailed relocation proposal to Environment Minister Lily D'Ambrosio.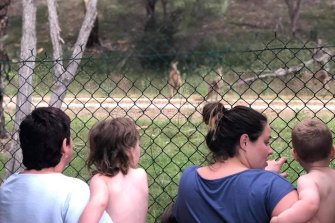 A family watches the kangaroos.
The kangaroos could be tranquillised and relocated by volunteer veterinary darters, at no cost to the government, it says. But they are yet to get a response.
"I'd question whether the department even wants to see a successful relocation because it would set a precedent for future developments where relocation would have to be considered as a feasible option," Ms Bassett said.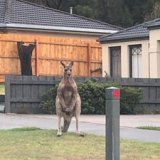 The kangaroos are often seen near local streets.
To Ms Bassett's knowledge, the department has never approved the relocation of kangaroo mobs: "As soon as you apply to move more than one or two animals, it's a 'no'."
The department did not respond to a question about this.
There are more than 1.4 million kangaroos in Victoria and according to government data, 136,502 of them were approved for "control" last year.
Most were culled but some were removed via non-lethal methods, such as being ushered towards a new area.
Developer Intrapac Property is rehabilitating an old quarry and surrounding land for a 3000-odd dwelling estate at the Lilydale site.
The environment department said it only received an application for "lethal control" of the Lilydale kangaroos but developer Max Shifman disputes this, saying a number of alternative options were proposed.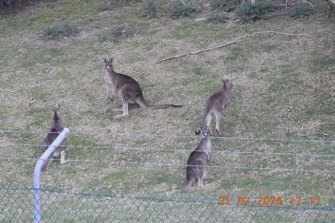 The family mob of kangaroos.Credit:Andrew Wallace
"We believe translocation or fertility control could have been a reasonable alternative but neither of those were deemed acceptable," Mr Sherman said.
"Now we are working on a revised translocation option which may be more acceptable."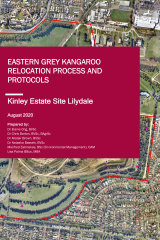 The relocation proposal given to government.
Ms Bassett, who volunteered as a vet in NSW after the summer bushfires, said the relatively small size of the group shouldn't mean culling was the only option.
"It's only 25 animals but everything adds up," she said. "We've lost three billion in the fires across the eastern seaboard and the majority of Australians have an expectation that animals are seen as individuals, valuable in their own right."
In a statement, Ms D'Ambrosio said land managers must exhaust all practical non-lethal options before applying for a permit to cull native animals.
Where non-lethal techniques were ineffective or impractical, culling may be necessary.
Wherever possible the Victorian Government advocates non-lethal management of wildlife, she said.
Get our Morning & Evening Edition newsletters
The most important news, analysis and insights delivered to your inbox at the start and end of each day. Sign up here.