Police are targeting pubs and clubs across Queensland this weekend to ensure social distancing measures are upheld, as the state records just two new cases from returning travellers.
On Friday, 17 clubs and pubs were inspected and four received warnings, in a compliance program set to continue throughout the weekend.
Queensland Police Commissioner Katarina Carroll said police would return to the places where warnings had been issued on Friday and if compliance was still not being upheld, penalties would be issued.
Two new cases were confirmed on Saturday, with one case previously reported now recovered, leaving Queensland with three active cases. Both new cases were returning from overseas and had been in isolation since arriving.
Questioned about reports specialist police were managing hotel quarantine for returning travellers, Ms Carroll said it was the role of police to manage community safety.
"Whether you are a junior officer [or] a senior officer, your priority is community safety. I am very comfortable that police look after the hotels and police look after the quarantine," she said.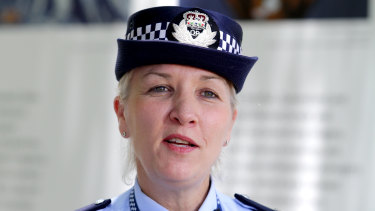 Queensland Police Commissioner Katarina Carroll.Credit:Michelle Smith
"In fact, not only police are working there, obviously members of the ADF and other agencies. However, those hotels must be under the command of a police officer.
"They are extraordinarily complex. You have to have legislative authority and I am extremely comfortable with the decision we've made with [Chief Health Officer] Jeannette Young that police take command of those hotels."
Ms Carroll said she did not want to see what was happening interstate occur in Queensland and police would "always be in command" of the state's hotel quarantine procedures.
Loading
Since July 3, police have met 306 flights at Queensland borders, 33 from Victoria. More than 20,350 passengers have been processed by police at airports and 71 domestic passengers refused entry to the state.
The Commissioner said 368 people flying into Queensland from COVID-19 hotspots and 52 people met at road borders had been placed in hotel quarantine.
In total there are currently 420 people in hotel quarantine across Queensland.
"Since July 3 ... we have intercepted nearly 32,000 vehicles, and as a result of those interceptions we have actually turned around 1542 people in those vehicles," Ms Carroll said.
At least one $4004 fine had been issued for false information on a border pass, she said.
Ms Carroll said she was at the borders yesterday and it was "incredibly pleasing" to see the vast majority of people had downloaded the new border declaration.
"I got the opportunity to talk to many Victorians who were sitting across the border for a number of weeks - even one who had been there since May, waiting to make their yearly trek to Bowen," she said.
"It was excellent. They did the right thing. They had all of their evidence as to where they were staying and what period of time, and looking forward to coming into Queensland to enjoy our beautiful weather at this time of year."
Police Minister Mark Ryan said on Saturday morning one investigation into a nightclub was ongoing after a reported breach.
"I know people want to get up and dance, but one of the things that is restricted at the moment is dancing at those venues, and police and our partner agencies will be paying particular attention to that," he said.
"There will be penalty infringement notices issued to people who blatantly disregard the regulations and are contravening their COVID-Safe plans."
Lucy is the urban affairs reporter for the Brisbane Times, with a special interest in Brisbane City Council.
Loading