Queensland FIFO worker arrested after breaching Perth hotel quarantine four times
An interstate fly-in fly-out worker has been arrested after he allegedly breached hotel quarantine four times after landing in Perth from Queensland.
His colleague, a 30-year-old worker from New South Wales staying at the same accommodation, has also been fined for breaching quarantine to hang out with his workmate.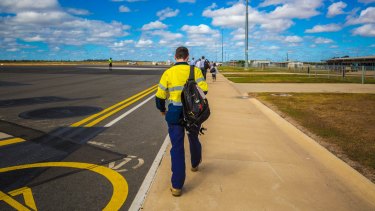 The men worked for the same company and were self-isolating at the same apartment complex.Credit:File photo/Glenn Hunt
Selu Cecil Thornley Siitia, 32, landed at Perth Airport on October 13, after receiving an exemption through the G2G Pass system to travel to Western Australia for work.
Mr Siitia, who is a New Zealand citizen but usually lives in Queensland, was ordered to self-isolate for 14 days at an apartment complex in East Perth.
Police allege the man wasn't in his apartment when officers arrived at the hotel for a random quarantine compliance check on Friday and found him outside the complex instead.
Loading
"During the course of the investigation, it was identified that a second possible self-quarantine breach had taken place, involving another employee of the same company who had also recently arrived in WA," a police spokesman said.
The man's colleague landed in Perth from New South Wales on October 17 and was issued with a direction to self-isolate at the same apartment complex upon arrival.
Police claim the man breached the quarantine order to socialise with Mr Siitia at his apartment.
"Both men were advised they would be receiving a $1,000 infringement for failing to comply with the direction they were given and were reminded of their requirements to self-quarantine," the spokesman said.
But upon leaving the complex, police found Mr Siitia at the front of the apartment building in breach of his self-quarantine direction again.
Police claim Mr Siitia became aggressive after being told he would be taken to a secure hotel for the remainder of his quarantine and was arrested after a short struggle with officers.
He was taken to Perth watch house and charged with four counts of failing to comply with a direction.
Mr Siitia faced Perth Magistrates Court on Saturday morning and was refused bail. He is due to appear in court again on November 9.
More than 100 people have been charged with breaching quarantine or social distancing rules since WA started enforcing its emergency powers in response to the COVID-19 pandemic.
Around half of the 106 charged to August 27 were convicted of failing to comply with a direction, which carries a maximum penalty of 12 months jail or a $50,000 fine.