Gerald Ryan has a team of three-year-olds to savour this season, but realises they will have to clash in 2020 starting with Kumasi, Return With Honour and The Face in Saturday's Rosebud at Rosehill.
The chances of sending horses to Melbourne and maybe Brisbane have been taken away by the COVID crisis, so Ryan is preparing to see his team facing each other on raceday, rather than just in the morning.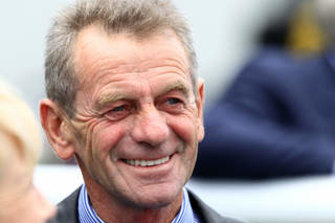 Gerald Ryan believes he has got a team of half-a-dozen three-year-olds who will challenge for the Golden Rose this year.Credit:Jenny Evans
"You want to try and keep them apart and win as many races as possible but this year that can't happen," Ryan said.
"We're still racing, which is a great achievement, so we will make the most of it. We are going to see a lot of good horses stay in Sydney, but it means they will have to race each other.
"I have about five or six nice three-year-old males, colts and geldings, that wouldn't be out of place in the Golden Rose and the path there is pretty much set.
"Kumasi and Return With Honour have to get stakes money to get into a race like the Golden Rose because they only have 50 and 60 thousand in the bank. We need to win races with them and that's why they are starting now."
Kumasi is the $4 Rosebud favourite but Ryan believes Return With Honour might be the best of his bunch on a dry track. He also has The Face, who is $15 to $8 for Saturday's assignment. He is still a work in progress that earned a crack at the better ones off his Gosford maiden win.
"The Face is probably six months away but it is good to give him a chance at these sort of races," Ryan said. "He needs to go out and body up a bit, which will probably happen after Saturday.
"He has as much ability as the other horses but just needs to mature a bit."
Ryan did consider taking on the older sprinters and running Return With Honour in Saturday's Missile Stakes, but his dislike for damp tracks kept him to his own age.
"I have Return With Honour at the top of the list. I have a lot of time for him on a firm track," Ryan said.
"I was going to wait for Eagle Farm next week with him if it was wet but I can't guarantee him getting up there and back, so he probably has to run on Saturday.
"If was a firm track on Saturday I would have run him in the Missile because he would be very good at 1200m and think he would have handled it."
The unbeaten Peltzer will trial next week and will take a different path to the Golden Rose, where he is a $15 chance.
Loading
"I like Peltzer, he has done nothing wrong. He will be back for the San Domenico [Stakes in two weeks] because he raced a little longer into the winter," Ryan said.
"But I really like Return With Honour and Kumasi is a really nice horse but probably needs 1400m.
"The plan was for Return With Honour to go down to Melbourne and have a run in the Danehill Stakes because if he measured up he would have then been down the straight before the Coolmore Stud Stakes.
"But Melbourne is out now, so we are hoping that it dries out so we see the best of him,"
Ryan also has Heart Of The Oak returning from a spell on Saturday and was surprised when she came up $2.80 favourite.
"She is a good little filly. She has come up really short on Saturday, but the form around her is really good," he said.
"She has come back well at the trials and is that little bit stronger."
Ryan's day finishes with Perigord in the closer at Rosehill, who has been a money maker since joining his stable from Bjorn Baker.
"Since we got him he has won three and run a second and a third. He is very honest and will be there at the finish," he said.
Sport newsletter
Sports news, results and expert commentary delivered straight to your inbox. Sign up to the Herald's weekday newsletter here and The Age's weekly newsletter here.