You wouldn't guess it from the outside, but on the ground floor of Chifley Tower in the heart of the city some of Sydney's biggest players are getting into shape.
Soma Collection's primary clientele are the high flying executives from Deloitte, Centuria, Investec, BOQ and Morgan Stanley.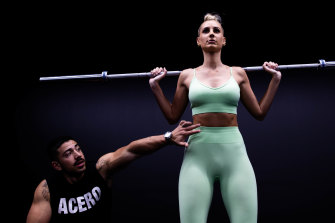 Personal trainer Jono Castano with model Laura Dundovic.Credit:Janie Barrett
But actors Rebel Wilson, Hugh Sheridan, Lincoln Lewis, Angus McLaren, singer Jessica Mauboy, and celebrity hairstylist Chris Appleton have also swiped into the luxe wellness club since it opened a year ago.
With its dark timbers, bronze accents, linen drapes and mood lighting, Soma looks more like a trendy hotel than a place where bodies are transformed – which is precisely the goal of head trainers and co-founders Franco Atashi and Simon Anderson.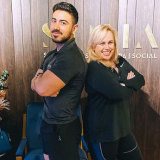 Rebel Wilson with her personal trainer Jono Castano at Soma Collection.Credit:Instagram
"We both have always liked the finer things in life and that's exactly what our clients are accustomed to, so it was important to mimic that at Soma Collection," Atashi says.
"The two of us specialise in training executives – your CEOs, COOs and CFOs – these guys are tired, stressed and often time-poor," explains Anderson. "We wanted to create an oasis that takes them away from their fast-paced lives."
The exclusive wellness club offers ballet barre, reformer pilates, a booty builder machine for those hoping to build their, err booty, health spa and infrared saunas. It has a strict cap on memberships.
"Our gym isn't for everyone. We don't get your typical bulky guys in here with T-back singlets throwing weights around, and we don't want that either," says Anderson, adding that they have turned away clients they consider unsuitable.
"Our clients trust they can come here and not get bothered with photos and autographs, it's a safe space for them to train and meet their fitness goals."
Trainers, Simon Anderson and Franco Atashi and the co-founders of Soma Collection Gym.Credit:Louise Kennerley
Former Soma trainer Jono Castano has made a name for himself as the go-to personal trainer to the stars after helping Rebel Wilson lose 18 kilos.
The Columbian-born trainer recently branched out on his own, opening Acero gym in Kensington for his mostly high profile clients. Merivale chef Dan Hong, model/ actress Pia Miller, model Laura Dundovic, and first lady of cricket Dani Willis (wife of Steve Smith) all train under Castano.
"People want to train with me because they know they get the result," Castano says. "No two celebrities have the same health and fitness goals."
Like Soma, anyone can train at Acero and take advantage of the gym's infrared sauna, juice bar, onsite flexoligist with a boxing ring, and basketball court. And for those who are going straight from the gym to the red carpet blowdries and a barber are available once a week.
Loading
Offering less high intensity but more flexibility is pilates guru and trainer Kirsten King who has models, fashion designers and entire sporting teams train at her Surry Hills and Clovelly Fluidform studios.
P.E Nation co-founder Pip Edwards raves about the wonders Fluidform has wrought on her physique, sharing photos to her 169,000 Instagram followers from her three weekly sessions. New Zealand-born, Victoria's Secret model Georgia Fowler regularly trains with King and is regularly seen in group classes.
King downplays her celebrity following. "While I am lucky to have some notable people train with me, the majority of my 500 clients are normal people who love the results they get from my program," she says.
Lucy Manly is a reporter and gossip columnist for The Sydney Morning Herald and Sun-Herald.
Loading