So here we are, the final games of the final round of what has truly been an extraordinarily odd AFL season.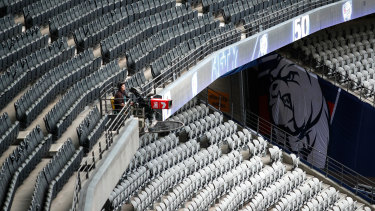 For most games, the grandstands have been barren.Credit:Getty Images
By everyone's reckoning it's been a season like no other. As we speak, all Victorian teams are still located in hubs outside of Victoria. There hasn't been one game played in the state since way back in the first week of July.
The season and its games have been reduced and condensed. For most games, the grandstands have been barren and, strangely, there's been at least one game on TV most nights of the week for the past two months.
The compromises have come thick and fast. Teams have been asked to play with little rest between games, often to their significant disadvantage. Last Monday, for example, the Gold Coast Suns played Collingwood just five days after their previous clash against Brisbane. Collingwood, coming off the bye, had not played for 10 days.
Loading
For some the compromise has been too much. Back in June former AFL coach Mick Malthouse wrote: "I hate to say it, but it is virtually a non-season," adding, "There are too many restrictions and too much compromise for it to be fair and even for all."
His premiership midfield star Dane Swan has been singing from the same hymn book, tweeting, "No player, coach, AFL official or commentator will ever say it, which is understandable, but no doubt this year has an asterisk."
No, it hasn't.
This season is as legitimate as any others. For the evidence, just look around.
The fans are invested. The TV ratings for this season are through the roof. In August, Foxtel reported its ratings had increased by an average of 34 per cent compared to the same time last year. For Channel Seven it's a similar story. Its ratings bump was 24.2 per cent.
Of course, the naysayers will point to the fact the ratings are simply up because there's nothing else to watch.
But the investment from the fans has been emotional, too. In a year where we've all been crying out for a mere glimmer of hope and speck of good news, so often it's been the footy that's delivered.
Ask Carlton fans. Their anguish following an after-the-siren winning goal by Port Adelaide's Robbie Gray in round 7 was then superseded by scenes of ecstasy when Jack Newnes kicked a last-gasp goal from the boundary to claim a famous victory against Fremantle in round 12. Fans across the country posted videos on social media of their wild celebrations reminding us all just how much this season matters.
The coaches and players are also invested. Ask West Coast Eagles premiership coach Adam Simpson, who claimed the injury-depleted Eagles' win over St Kilda in round 17 was "one of my best wins for the club in my time". The season clearly matters to him.
Loading
And don't worry about the idea that this season is too compromised to be legitimate. Most people are smart enough to realise every single season is compromised.
Malthouse's Magpies, for example, played a remarkable 11 games in a row at the MCG on their way to the premiership in 2010 while some interstate teams travelled from one side of the country to the other. Last year, Richmond finished the regular season with a run of seven MCG games.
We all know that each year, except this one, teams play every other team once, but only five other teams twice. Some play indoors at Marvel Stadium at the same time others play outside in teeming rain. Then there's the small matter of higher-ranked non-Victorian teams playing Victorian clubs in the grand final in Melbourne.
Sound compromised? Of course it is.
Undoubtedly this year's been odd. But illegitimate? No way. It matters. In fact, it matters a lot.
Sam Duncan is a lecturer in sports media and marketing.