Lagos: Calls for calm by Nigerian President President Muhammadu Buhari have failed to appease protesters in the capital, infuriated that he failed to condemn the killing by police of protesters demanding an end to police brutality.
The unrest is the worst street violence since Nigeria's return to civilian rule in 1999 and the most serious political crisis confronting Buhari, a former head of a military regime who came to power at the ballot box in 2015.
The protests against the nation's Special Anti-Robbery Service (SARS) police force have attracted attention worldwide, fuelled by the hashtag #endSARS and the backing of prominent celebrities.
But the contribution of Black American musician Beyonce Knowles, who launched her own Afro-centric visual album Black is King earlier this year, has been condemned by the same middle class Nigerian protesters who once called on her to back their cause.
Nigerian protesters called on Beyonce to back their struggle. Pictured here from her 2020 Afro-centric release Black is King. Credit:Disney
On Tuesday, Beyonce's team posted a statement from the Black is King singer to her millions-strong social media base on Instagram, Facebook and Twitter.
"I am heartbroken to see the senseless brutality taking place in Nigeria," Beyonce wrote. "There has to be an end to SARS."
"We have been working on partnerships with youth organisations to support those protesting for change. We are collaborating with coalitions to provide emergency healthcare, food and shelter. To our Nigerian sisters and brothers, we stand by you."
The week before, Nigerian musician Tiwa Savage called on Beyonce and her team, with whom she collaborated on Black is King, to support the Nigerian protests: "I want them to please use their voice and their platform right because the same country that birth this genre (Afrobeat) is on fire right now."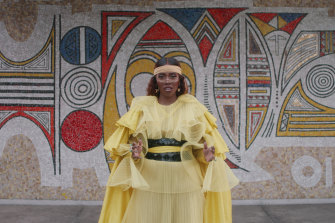 Nigerian musician Tiwa Savage in "Keys to the Kingdom", a scene from Beyonce's album Black is King.Credit:Disney
But the statement from the superstar did not impress Nigerians protesters, who thought she saw every African crisis as a famine.
"Who told Beyoncé that we are hungry?" asked digital entrepreneur Papi Jay.
"Can somebody tell this woman we are not hungry??????? We need support to fight for our existence," tweeted local entrepreneur Mercy Ehimare.
The protests in Lagos, a sprawling commercial hub of 20 million, have been led by the city's well-educated student class and in some ways resembles the millennial-led uprisings of the Asian maxi cities of Hong Kong and Bangkok.
"The protests signalled the overturning of convention," prominent Nigerian author Chimamanda Ngoze Adiche wrote in The New York Times."The protesters insisted on not having a central leadership, it was social rather than traditional media that documented the protests, and, in a country with firm class divisions, the protests cut across class. The protests were peaceful, insistently peaceful, consistently peaceful. They were organised mostly on social media by young Nigerians, born in the 1980s and 1990s, a disaffected generation with the courage to act. Their bravery is inspiring. They speak to hope and to the possibility of what Nigeria could become."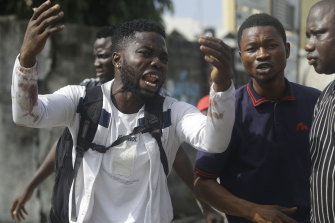 Alister, a protester, says his brother Emeka died from a stray bullet from the army in Lagos, Nigeria.Credit:AP
Amnesty International said soldiers and police killed at least 12 protesters on Tuesday in Lekki and Alausa, two Lagos districts. On Thursday, Amnesty, Human Rights Watch and 40 other groups demanded an immediate and thorough investigation of the incident.
A Nigerian DJ and musician known as DJ Switch, who broadcast the shooting in Lekki live on Instagram, on Friday recounted the incident on the social media platform. She said the military carried out the shooting and she counted 15 dead bodies.
The army has denied soldiers were at the site of the shooting, where people had gathered in defiance of the curfew.
Buhari, in a national address late on Thursday, urged youths to "discontinue the street protests and constructively engage government in finding solutions".
Nigeria's President Muhammadu Buhari, addresses the nation on a live broadcast, Thursday, Oct. 22, 2020. Credit:Nigeria State House
It was his first public address since the shootings. He lamented the loss of innocent lives, but did not directly refer to the Lekki incident that sparked international condemnation.
Many of those on the streets despite the curfew said Buhari's speech had angered them by his failure to address the fatal shooting of protesters.
"We expected him to say something to condemn the killing," said businessman Lekan Shonibare.
Reuters, staff reporters