'You are awesome Melbourne!': Victoria records just 14 new cases, 5 deaths, as further easing of restrictions seem likely in a week
Victoria has recorded just 14 new cases, exactly one week out from the planned date for further easing of restrictions.
Sadly, five more deaths were recorded over the past 24 hours.
It's the second day in a row of daily new cases under 30, with just 21 cases recorded on Saturday - the lowest since June 24 where there was 20 cases.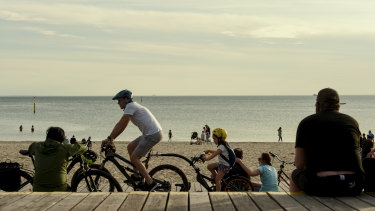 St Kilda Beach was a popular spot for exercise and social catch-ups on Saturday. Credit:Penny Stephens
Health Minister Jenny Mikakos made a celebratory tweet moments before the numbers were released.
"Before I go to sleep I get the tenative 'number'. You are awesome Melbourne," she wrote.
Melbourne's 14-day rolling average is now 36.2, meaning in all likelihood Melburnians can look forward to gatherings of up to five people from two different households in public spaces and the re-opening of childcare centres.
But significant changes such as the lifting of the 9pm to 5am curfew and the five-kilometre radius rule will not be lifted for another month.
Half of Victoria's active cases are still being driven by aged care infections. As of Saturday, 433 of the state's 834 active cases were either residents in aged care, staff members in aged care or family members of staff.
The health deparment announced a new aged care outbreak at BlueCross Riverlea aged care facility in Avondale Heights on Saturday.
Meanwhile Sutton Park McKenzie Aged Care in Melton South, Estia Health Aged Care Facility in Keilor and Doutta Galla Aged Services in Woornack are currently topping the list of 75 facilities with active cases, with 114 active cases between them.
Healthcare worker infections, which include aged care workers, continue to make up around 15 per cent of overall active cases.
A cluster in the city of Casey, thought to be spread by people visiting each other at home, grew to 34 cases on Saturday, with 26 cases active.
Chief Health Officer Professor Brett Sutton said on Saturday that the outbreak was now under control, and apologised after he linked that spread to some members of the Afghan community.
As of Saturday the other largest non-aged care outbreaks were at Footscray Hospital with 15 cases (13 active), Vawdrey Australia Truck manufacturer with 64 cases (seven active), Dandenong Police Station with 17 cases (six active) and Alfred Hospital with seven cases (six active).