Louise Taylor remembers sitting in the ACT Magistrates Court as a nervous young lawyer, questioning her sanity as she rehearsed the phrase "may it please the court" over and over again in her head.
On Monday morning, after more than 15 years working in prosecution and defence roles across various courts, she returned to the court to take her new seat on the bench.
Louise Taylor, who has become the ACT's first Aboriginal judicial officer.

Photo: Karleen Minney
Ms Taylor was sworn in as a magistrate during a ceremonial sitting that made her the ACT's first Aboriginal judicial officer.
In her speech, Ms Taylor said she had been overwhelmed by the legal fraternity's reaction to her appointment, and humbled by suggestions she would be a trailblazer for Aboriginal members of the profession.
She said there was a belief that "you can't be what you can't see", and that it was important for people to be able to see Aboriginal people as leaders.
"My Aboriginality, to steal a phrase, is not everything, but it's not nothing," Ms Taylor said.
Ms Taylor described the Magistrates Court as the engine room of the administration of justice in the ACT, and the place people were most likely to come into contact with the justice system.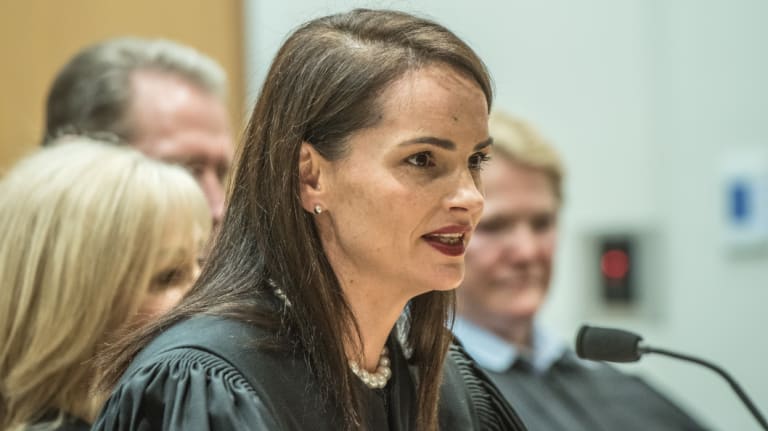 Magistrate Louise Taylor, who was sworn in at the ACT Magistrates Court on Monday morning.

Photo: Karleen Minney
"This appointment feels a weighty responsibility, as it should," the former Legal Aid ACT deputy chief executive said.
"I won't ever forget how hard it can be to be an advocate, the courage it can require and the toll it can take."
Ms Taylor's appointment means the ACT now has eight full-time magistrates, bringing some relief to a court that has long struggled to keep up with the volume of criminal, civil and coronial matters.
People who come through the ACT Magistrates Court criminal lists can wait months for a hearing date, while coronial matters are sometimes not resolved for years.
Magistrate Louise Taylor's father Russ, mother Judy, son Miles, daughter Hannah and husband Joe at her swearing-in ceremony on Monday.

Photo: Karleen Minney
ACT Bar Association president Ken Archer said of the many welcoming speeches he had given at swearing-in ceremonies, none had given him greater pleasure.
Mr Archer, who recruited Ms Taylor to her first role with the Office of ACT Director of Public Prosecutions, said she had too many achievements to list.
He singled out her efforts in improving access to justice for Aboriginal women for praise, and described Ms Taylor as "worldly, smart, frank and enormously straight-forward".
"You are respected because of your preparedness to walk the talk," Mr Archer said.
ACT Law Society president Sarah Avery said Ms Taylor was an inspiration to young members of the profession, particularly women.
In his speech, Attorney-General Gordon Ramsay lauded Ms Taylor's work prosecuting cases as part of the ACT Family Violence Intervention Program, saying it was perhaps the role that best defined her career.
Mr Ramsay said Ms Taylor's experience made him confident she would help keep the justice system fair and accessible for Canberrans.
"The Canberra legal community has not only welcomed, but celebrated your appointment," he said.