Aries
March 21- April 19
Unbeknownst to you, people are watching. People in positions of power. With your heightened ability to assimilate new information and express yourself in a charismatic, intelligent fashion it's the perfect time to make a good impression, especially in the professional arena. Don't be afraid to blow your own horn, Aries – get out there and garner some positive publicity!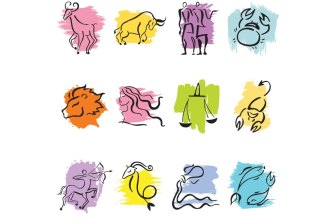 Every star sign on love, career and more.Credit:iStock
Taurus
April 20-May 20
Are you in the mood for something different? Different people, different food, different surroundings? If so, you need to create exotic experiences, rather than wait for them. Although it's not an ideal time to travel, at least set the wheels in motion, brush up on your Italian and get a culture fix with art galleries, film festivals and foreign restaurants.
Gemini
May 21-June 21
If there are money matters that need consideration, don't stall any longer. Patience and research will pay off, literally, but don't wait too long to take action. Thoughtful spending, from white goods and homewares to larger, more significant purchases, is best done now. This is also a good time to open accounts, refinance, and shop around for a better deal.
Cancer
June 22-July 22

If time-sharing various aspects of your life has been an issue, today you'll feel a returning sense of equilibrium. With loving Venus moving into your relationship sector, harmony will prevail and you can look forward to some romantic moments. Juggling your public and personal life will also be less challenging. All in all, you won't be tugged in several directions.
Leo
July 23-August 22
Powerful, sexy and serendipitous stars are visiting your area associated with love affairs. You're bound to be more brazen, especially with romance. Singles, this is the perfect time to take a risk. With your magnetism boosted, it's unlikely you'll be turned down. Couples, you too can revel in the frisky vibes, as the stars heighten your passion!
Virgo
August 23-September 22
Your mental faculties are usually in peak condition, and even though ruler Mercury is retrograde, the presence of the sun will make up for it. Flex your brain power through cerebral topics that challenge your mind and expand your knowledge. Meeting like-minded people by joining an association or enrolling in a short course will give you the simulation you need.
Libra
September 23-October 22
The sun's shift into your money sector will bring relief to strained finances. Although you may not win the lottery or get a pay rise, the absence of unexpected expenses will give you the breathing space to regroup. Some of you will be able to afford a long-awaited purchase, while others can settle debts. Whatever your situation, better times are ahead.
Scorpio
October 23 – November 22
Roll up your sleeves! You're a dynamo at the best of times, but today you'll be an absolute powerhouse driven to get things done. However, operating in turbo mode could create a mishap or two, so always look where you're going, be careful not to elbow others, knock over glasses and generally leave a path of destruction in your wake.
Sagittarius
November 23-December 20
You mightn't be the most sentimental sign but with the Moon heightening your nostalgic streak, a stroll down memory lane is in order. You'll also be in a domesticated mindset making this the ideal time to sort through photos and memorabilia. You may also be inclined to contact an old friend or organise a get together with your extended family.
Capricorn
December 21-January 19
The stars are drawing out your charitable side. You'll get much pleasure from helping others, without expecting anything in return. Seeing the positive effect of your kindness will be reward enough. On a different note, handling issues from the past that have been holding you back can be dealt with, giving you the closure you need to move ahead.
Aquarius
January 20-February 18
The cosmos is creating favourable circumstances with your professional life. Transactions and meetings are likely to go smoothly, and lingering problems can be easily resolved. If you've been meaning to approach your boss regarding ideas or advancement, do so. It's also the perfect time to launch a business. Self-promotion will be easier than you anticipated and people will be
Pisces
February 19-March 20
It doesn't take much to ignite your sense of adventure, and with the stars enhancing your inner swashbuckler, you'll say 'yes' to anything! Take any opportunity that's up for grabs, whether it's RSVP-ing to small gatherings, accepting random invitations, even going on a blind date. Meeting new people and taking chances will open up a world of possibilities.