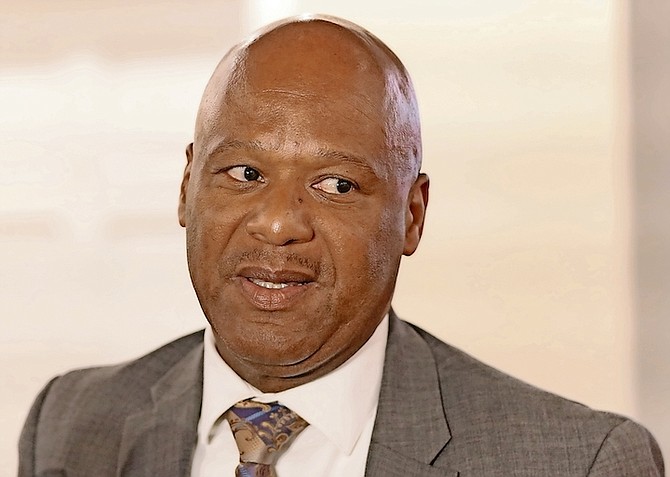 LABOUR and Immigration Minister Keith Bell.
By LEANDRA ROLLE
Tribune Staff Reporter
lrolle@tribunemedia.net
FIFTEEN Haitian migrants who were onboard an ill-fated vessel that capsized in waters off New Providence last month will be repatriated to their homeland later this week, Immigration and Labour Minister Keith Bell said yesterday.
Mr Bell was asked for an update on the boating tragedy on the sidelines of the opening ceremony for the Caribbean Regional heads of government meeting yesterday.
He said the group will be among some 130 irregular Haitian migrants who are expected to be deported in a matter of days.
"As you all are aware, several persons were charged and are currently before the courts," the minister told reporters yesterday. "As it relates to those survivors, this week we anticipate that we're going to repatriate 130 irregular Haitian migrants and another 30 plus to Cuba and in that number going back to Haiti will be 15 migrants who were involved in that tragedy at sea."
Police suspect that some 45 people were travelling to Florida from New Providence on July 24 when their boat capsized in rough seas near Blackbeard's Cay.
The boating tragedy left 17 Haitians dead, including a pregnant woman and two minors, while several people are believed to be still missing.
According to officials, six of the 17 people who died from the tragedy have been identified.
Five of the victims are listed as follows: Mary Saimphorin, Kourtney Volmyr, Annette Mesidor, Bobley Fertilus, and Altanice Ivroy.
Yesterday, Mr Bell was asked to respond to reports that the government has given families of deceased victims a two-week deadline to collect their remains.
However, he dismissed the reports, saying there can be no deadline because officials wanted to exercise the "highest degree of humanity" as possible.
"I don't know the specifics but certainly there can be no deadline," Mr Bell said. "We are exercising the highest degree of humanity as we possibly can and we are continuing to work with the Haitian community and the Haitian pastors to ensure that the remains are identified and they're given the highest degree of dignity and respect."
It is not clear when the memorial for Haitian migrants who died at sea will be held; however local activist Louby Georges said he is hopeful that the event will happen at the end of the month.
"The sooner, the better but there's a certain process again that we have to go through which is ongoing as we speak," he said in a recent interview with The Tribune.
"I would say that we are maybe in the final stages. If you choose a funeral home then you know that the funeral home has to go to that morgue at that hospital to retrieve bodies to begin to prepare the bodies for a funeral so hopefully, by the end of this month it will be done."
As for the burial costs, the Haitian government has already committed to covering the funeral expenses of unidentified victims who perished at sea last month.