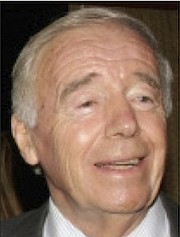 AS the war in Ukraine grinds on remorselessly and remains a threat to global peace, the hope expressed by Putin some while ago that NATO and the West might lose interest and turn their attention to the next world crisis has not been realised. Nearly six months after the Russian invasion, their commitment to assist the Ukrainians in repelling Russian aggression is as strong as ever. To illustrate this, a significant event took place last week in the Danish capital, Copenhagen, which seems to have attracted relatively little international media coverage.
Co-hosted by Denmark, Britain and Ukraine, a one-day donor conference of European Defence Ministers was held on Thursday to discuss long-term military aid and support for Ukraine. At the meeting, which was addressed by President Zelensky via video link, Ukraine's Minister of Defence requested yet more weaponry and other military assistance. Other countries like the US, Canada, Australia and New Zealand also participated – some virtually - and it appears to have been a follow-up to the gathering in April at a US air base in Germany to coordinate international military support to this beleaguered country.
Twenty-six nations agreed last week to enhance their military assistance to Ukraine and committed more than $1.5 billion in cash, equipment and training to boost its military capability. Specifically, it is reported that this new money pledged by so many different countries will be used to supply missiles and a wide range of weapons and ammunition, to train Ukrainian troops and to de-mine war-torn areas. The Defence Ministers agreed to sustain military support in the long-term and agreed to hold another meeting virtually in September.
Such commitments surely send a powerful warning to Putin that Western countries are in this for the long haul - and new weapons include the sophisticated US-built HIMARS (High Military Artillery Rocket System) that is claimed to be particularly effective and will boost decisively Ukraine's artillery capacity. That said, it is also the case that in some countries – notably Germany, Hungary and France which seem to be most affected by the reduction of Russian oil and natural gas exports to Europe -- there are growing pressures to persuade Ukraine to seek a negotiated settlement to end the conflict; and in Britain, for example, the rise in energy costs is currently top of the political agenda.
Nonetheless, in reiterating the West's long-term overall commitment to Ukraine, perhaps Britain's Defence Secretary, Ben Wallace, put it best when pledging an additional $310m for sophisticated rocket and missile systems and for the training in the UK of up to 10,000 Ukrainian troops - mainly in the operation of weaponry and clearance of land and sea mines. He said that increased donations were proof that Western governments were not becoming bored with the conflict and that 'our continued support sends a very clear message that Britain and the international community remain opposed to this illegal war and will continue to stand shoulder to shoulder' with Ukraine to help them defend their country. There was, he added, an evident need to maintain the current momentum and keep the assistance flowing. Inevitably, however, Moscow has accused Western countries of dragging out the conflict by continuing to supply weapons to the Ukrainians.
Meanwhile, Mr Wallace has also commented that Russia's invasion of Ukraine is "starting to fail in many areas". Continuing its offensive in the south and east, it already controls Luhansk and is now fighting for the remainder of Donetsk, the two Russian puppet states making up the eastern Donbas region. But the Ukrainians now claim to have 'destroyed' about one-fifth of Russia's ground forces deployed since the start of the invasion. Moreover, Ukrainian military activity behind enemy lines seems to be increasing; for example, their suspected attack on a Russian air base in Crimea where satellite images show at least ten war planes were damaged or destroyed, though the Russians deny this.
In the current phase of the war, perhaps the most potentially dangerous place in Ukraine is the Zaporizhzhia nuclear power plant in the south of the country -- the largest in Europe – which the Russians have occupied since March and are now said to be using as a military base. Both sides are accusing the other of shelling the plant, with the Ukrainians talking of wholesale destruction and havoc if any areas of it are attacked or damaged. The International Atomic Energy Agency (IAEA), the UN nuclear watchdog, has warned of the real risk of a nuclear disaster, saying that 'any military firepower directed at or from the facility would amount to playing with fire, with potentially catastrophic consequences'.
At a meeting of the UN Security Council last Thursday, Secretary-General Antonio Guterres described the situation as 'a grave crisis', saying that any sort of military operation around a nuclear plant would be 'suicidal'. He told both Ukraine and Russia to cease fighting in its vicinity, urging that, in order to avert a potential disaster, a demilitarized zone should be imposed immediately so that the IAEA could make a technical visit to the site -- safely and without outside interference -- in order to assess its condition.
To most observers, it beggars belief that Putin and his henchmen in the Kremlin, as cruel perpetrators of the unprovoked violence in Ukraine, could risk a nuclear catastrophe in this way. But evil, it seems, knows no bounds – and at least it is encouraging to learn of the increased aid agreed at the Copenhagen conference and the commitment by Western donor countries to continue to support Ukraine until this disastrous war can be brought eventually to an end.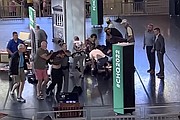 RUSHDIE ATTACK AN ASSAULT ON FREEDOM OF EXPRESSION
The terrible news on Friday of the stabbing of the famous British author and novelist Sir Salman Rushdie was all the more shocking since, ironically, he was living a relatively normal life again after being threatened with death under a fatwa from Ayatollah Khomeini, leader of Iran's Islamic revolution. In 1989, the Ayatollah, who exercised enormous power since he combined in himself as imam both the religious and political leadership of the nation, issued the fatwa following publication of Rushdie's novel, The Satanic Verses, the previous year.
This book had been condemned by some Muslims as blasphemous and insulting, and Rushdie had been living for years in hiding in England under police protection. The facts of the horrific knife incident, including information about Rushdie's attacker, are being fully covered in the international media – with a graphic account in The Tribune yesterday by an eye witness of the stabbing - and do not bear repetition here. But some analysis of the background and the issues at stake might be interesting.
Fortunately, although badly injured in the attack just before addressing a literary festival in upstate New York, Salman Rushdie's latest condition is reported to have improved -- with members of his family saying at the weekend that after being taken off a ventilator he is talking again and that his defiant sense of humour remains intact as he begins the long road to recovery. But the attack on this Indian-born, highly acclaimed writer - in the US, where he had been living since 2000 - has sent shockwaves through the literary and political worlds.
Although it is the case that in modern society people tend to be less tolerant of disagreement, the fact that Rushdie should be attacked so savagely for expressing his views as a writer will surely outrage all intelligent people who respect and defend the core democratic values of freedom of expression and free speech. To these should be added the right of dissent and to hold opposing positions without the threat of harassment or even putting the lives of the individuals concerned in danger – and that includes, of course, the need to hold governments to account. Many people contend that freedom of thought and expression are essential for civilised life to thrive and that individuals need to be able to ventilate fears and grievances peacefully while recognising at the same time that hate speech or incitement to violence should not be allowed. The defence of that liberty, they say, in the face if intolerance must be maintained; and writers, in particular, need to be able to express their views – including in fictional works – without fear of persecution or worse as long as they do so within the constraints of the law.
I do not claim to have read The Satanic Verses. But, from comments I have seen, it was inspired in part by the life of the Prophet Muhammed, and was regarded by readers in the West as an attack on religious bigotry. However, although, according to reports, Rushdie did not intend to offend anyone, his book caused outrage among some Muslims who saw it as a vicious series of insults directed at many of their most cherished beliefs. To them, it was said to be intolerable for someone they saw as a mere novelist to dare to question their fundamental religious and other beliefs. By contrast, in the Western tradition discussion and criticism of religion in fictional works is common.
In considering this, it is interesting to study the views of historians of religion who maintain that, unlike Judaism and Christianity which distinguish between the religious and the secular, Islam is a religion which, they say, unites both the spiritual and the temporal in one community and seeks 'to control not only the individual's relationship to God but also his social and political relationships with his fellow men' – partly through Sharia law. Those with specialist knowledge of the subject claim that, to a conservative Muslim, Islam is not just a religion - in the way that most Westerners view religious faith as a private and personal set of beliefs that provide hope and perhaps consolation in a troubled world -- but rather a way of life and a body of law to be obeyed.
If that is indeed the case, it does perhaps illustrate the gulf between the two extremes – representing, in the view of some, an unbridgeable gap - which helps to explain, without justifying it, the reaction of some to Salman Rushdie's book.
Interestingly, Muslim scholars in the UK, who have been invited by the BBC to express their views following last Friday's horrific incident, have been saying they support the democratic values of the country they call home and say that it is incumbent on Muslims living in the West to respect local laws and traditions. At the same time, it is always healthy in any community to maintain a dialogue about controversial issues – and, in the UK's multicultural society, while it is essential for everybody to adhere to the law of the land, discussion and open debate is invariably preferable to the airing of differences and likely conflict behind closed doors.
Another Bahamian awarded UK scholarship
What a pleasure it is to be able to write today about the award of a Chevening scholarship to another Bahamian to study in Britain. The British High Commission has announced that this year's Bahamian Chevening Scholar is Tristian Christie who comes from here in New Providence. Selected from a competitive field of thousands of applicants and some 5,000 shortlisted candidates, he will enrol in a Master's degree of 'Innovation, Public Policy and Public Value' at University College London.
Chevening is the UK Government's global scholarship programme that offers future leaders an opportunity to pursue postgraduate studies in Britain. These scholarships are awarded to qualified candidates from all over the world to pursue a one-year master's degree in any subject at any UK university. Since the start of the programme in 1983, over one hundred Bahamian students have been selected for the award – and, reportedly, they have subsequently returned to The Bahamas to become leaders in fields such as the law, medicine, diplomacy and the military.
Tristian Christie holds a Bachelor of Science in Economics and International Development Studies from Dalhousie University in Canada and has 'interned' at the Central Bank of The Bahamas as well as working at a number of different financial institutions.
It was good to read that his long-term goal is to return home and work as an economist and researcher at the Central Bank – and I am sure all concerned will want to wish him the very best of luck in his studies in the UK.