Jun 18, 2020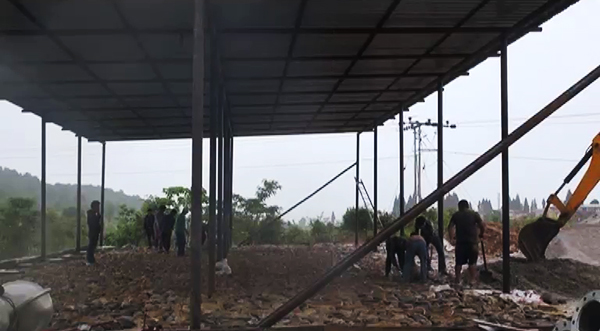 A group of high school students is making the best of the school closure by taking up construction work in Damphu, Tsirang. The group of eight boys studying in class 9 to 12 has been working with a private contractor for almost three weeks. They have been carrying various construction works as part of the Damphu town beautification project.
The enthusiastic and hardworking group said that their parents, who are all civil servants, are their main inspiration.
One of the boys, Jigme Sangay Wangpo, said that they were motivated after seeing their parents work hard for their family. " So we decided to work ourselves to earn some extra money."
Karma Choeying Dorji, one of the group members said that in the beginning, they felt a little embarrassed taking up construction work in the town premises. "But now I don't mind working anywhere. We have to take up such temporary jobs because we get plenty of free time these days."
Another group member, Karma Norbu said that some of them have been doing temporary jobs since last year.
"Our parents support us when we take up a temporary job and our teachers are very encouraging. Teachers who are on Desuung duties are also sponsoring us with edible items and refreshments," said Karma Norbu.
The students said that the money they get from the work would help them in buying data packages for their online classes and added that they are not letting their work affect their studies.
Jigme Sangay Wangpo said that they find time to balance both work and studies. "We work from 9 to 5 every day in construction sites and from 5 till 8 in the evening we focus on our studies and complete our assignments."
They are paid a daily wage of Nu.500. The boys will take home Nu.10000 each when they finish their work with the present contractor. The boys said that they have already got work offers from other contractors as well.
Pema Tshewang