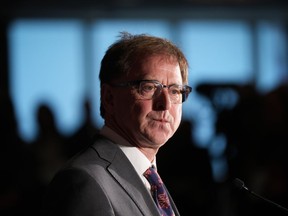 B.C. Health Minister Adrian Dix pauses while responding to questions during a news conference with his provincial counterparts after the first of two days of meetings, in Vancouver, on Monday, November 7, 2022.

Photo by DARRYL DYCK

/

THE CANADIAN PRESS
VANCOUVER — British Columbia's Medical Services Commission has applied for a court injunction against a Telus Health program alleging it is extra-billing for health services.
In documents filed in the B.C. Supreme Court Thursday, the commission alleges the LifePlus program is breaking the law by charging for services covered under the medical services plan.
Sign up to receive the daily top stories from the National Post, a division of Postmedia Network Inc.
By clicking on the sign up button you consent to receive the above newsletter from Postmedia Network Inc. You may unsubscribe any time by clicking on the unsubscribe link at the bottom of our emails. Postmedia Network Inc. | 365 Bloor Street East, Toronto, Ontario, M4W 3L4 | 416-383-2300
Thanks for signing up!
A welcome email is on its way. If you don't see it, please check your junk folder.
The next issue of NP Posted will soon be in your inbox.
The fee leads people to believe they will get preferential treatment if they pay for a membership, the petition to the court says.
Telus denies the allegations. It says the fees, $4,650 in the first year and $3,650 in subsequent years, are not for primary care and only cover uninsured services like dietitians, kinesiologists and other health and wellness needs.
Health Minister Adrian Dix said the commission began looking into accusations of illegal billing in February.
"It is very important to uphold the Medicare Protection Act, which is in place to preserve our publicly managed, fiscally sustainable, health-care system for British Columbia," he said on Thursday.
"Access to necessary medical care should be based on need and not an individual's ability to pay."
The court documents cite a would-be patient and a private investigator who say they were told they would have to pay the annual fee to see a family doctor.
At a news conference Thursday, Juggy Sihota, a vice-president with Telus Health, said family doctors working with the LifePlus program can offer insured services at their offices to people who have not paid for a membership.
"If the physician wants to provide insured services, that's separate from the service offering that we have," she said.
"They are free to use our premises to be able to provide a primary care insured service for that patient, but that's outside of the LifePlus program and it's outside of what Telus Health is providing."
Sihota said the injunction is unnecessary and that the company has co-operated with the investigation but had not been given the opportunity to discuss the commission's concerns.
"We're not aware of any basis for bringing in an injunction application. We believe that doing so is unnecessary given our fully co-operative approach and commitment, of course, to always ensuring regulatory compliance," she said.
Dix said the injunction application only relates to the LifePlus program and not any of Telus's other services.
He said the court case will be argued at some point in the coming weeks.
This report by The Canadian Press was first published Dec. 1, 2022.