At present all construction projects in the ward, whether new or renovation, are taking needlessly long periods to finish.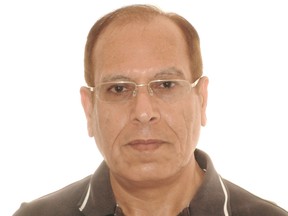 Othman Alhusain is running for council in Ward 7, Bay: 'Since its inception, LRT suffered and continues to suffer from serious design and execution errors.'
jpg
The Citizen invited candidates in the Oct. 24 municipal election to share their thoughts:
Transportation, housing, affordability, infrastructure, street safety, road quality, pathways and beaches, and other outdoor facilities are all important and urgent issues that have a great effect on the comfort and the quality of living in Bay ward.
Sign up to receive daily headline news from Ottawa Citizen, a division of Postmedia Network Inc.
By clicking on the sign up button you consent to receive the above newsletter from Postmedia Network Inc. You may unsubscribe any time by clicking on the unsubscribe link at the bottom of our emails. Postmedia Network Inc. | 365 Bloor Street East, Toronto, Ontario, M4W 3L4 | 416-383-2300
Thanks for signing up!
A welcome email is on its way. If you don't see it, please check your junk folder.
The next issue of Ottawa Citizen Headline News will soon be in your inbox.
However, the most important issue that has significant implications on the lives of the residents of Bay ward is infrastructure. The most important infrastructure project in Ottawa, the light rail line, cuts through Bay ward. The light rail project is expected to continue even beyond the mandate of the next council.
Since its inception, this project suffered and continues to suffer from serious design and execution errors on the tunnel, rail lines and on the coaches and control systems. All these faults make operating the LRT system subject to continuous malfunctioning and make remedies on the system almost impossible.
Since the growth of greater Ottawa is expected to continue in leaps and bounds and to reach unprecedented numbers in the next one-to-two decades, we will be compelled to think of extending the present, ill-fated, light rail system construction toward west and south Ottawa (to Kanata, Stittsville, the airport and Barrhaven), or to think of following a totally different path, for example, thinking of construction of a seamless and weather-proofed underground subway system, rather than sticking to continuously extending a failing LRT system.
However, since all transportation corridors from these suburbs to the city core crisscross Bay ward, it is expected that turning our streets and bridges upside-down and disrupting the natural flow of traffic in our ward will continue.
Beside the construction mentioned above, our Bay ward's streets themselves (Carling, Richmond and many others) will need continuous maintenance, improvement and resurfacing. All these construction works and disruptions of traffic will result in significant discomfort and disruption of the transportation patterns Bay Ward residents got used to. Construction will result in great deal of noise, dirt, mud and environment degradation.
At present all construction projects, whether new or renovation, are taking needlessly long periods to finish. I will work hard on shortening the execution periods for these projects, and will work to enact regulations to require developers to execute projects awarded to them in good quality, and on time, and to severely punish developers who fall behind on the execution of projects awarded to them.
For more information, visit here.