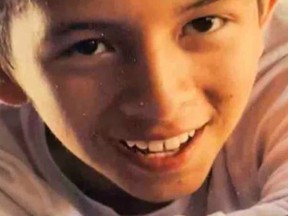 California teen Angel Figueroa came out of a coma nine months after thugs pushed him into traffic and stole his skateboard.

Photo by GoFundMe

/

Toronto Sun
California teenager Angel Figueroa, 16, has come out of a coma after nine months.
The young man is relearning simple tasks such as moving his limbs, according to People Magazine, but is not yet fully responding or communicating with anyone.
As the Canadian national soccer teams head to their respective FIFA World Cups, Derek Van Diest is on the scene to cover all the action. Expect expert insights and analysis in your inbox daily throughout the tournaments, and weekly on Thursdays for the rest of the season.
By clicking on the sign up button you consent to receive the above newsletter from Postmedia Network Inc. You may unsubscribe any time by clicking on the unsubscribe link at the bottom of our emails. Postmedia Network Inc. | 365 Bloor Street East, Toronto, Ontario, M4W 3L4 | 416-383-2300
Thanks for signing up!
A welcome email is on its way. If you don't see it, please check your junk folder.
The next issue of Corner Kicks with Derek Van Diest will soon be in your inbox.
Figueroa was pushed into the path of a car in February by a group of young people who stole his skateboard.
Police in the town of Hemet said Figueroa was riding his skateboard when he encountered a group of kids on a street and an altercation ensued.
Youths pushed Figueroa onto the roadway and into the path of an oncoming car. The driver remained at the scene.
The group of young people took Figueroa's skateboard and fled.
Figueroa did not regain consciousness until a few weeks ago, having suffered a traumatic brain injury. He spent months in intensive care, where a piece of his skull had to be removed.
He is currently in a rehabilitation centre.
Family members have organized a GoFundMe for him to cover medical costs and the cost of the specially outfitted van that will be needed to transport him in the future.
The teen one who pushed Figueroa received six months in juvenile hall and the other three were placed on house arrest.
Figueroa's aunt Belki Brizuela told KABC, "Teach your kids, like, it is not fun and games, you know? It's not a joke when you go out with your friends.
"Every decision you make, there are consequences."