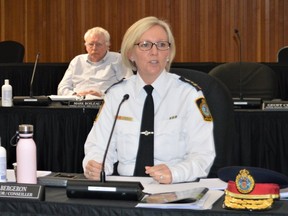 Cornwall Police Service Chief Shawna Spowart is seen here in a file photo from Dec. 2, 2021.

Photo by Shawna O'Neill

/

Postmedia
CORNWALL — Cornwall Police Chief Shawna Spowart is on leave, multiple sources with the Cornwall Police Service have told the Standard-Freeholder newspaper.
The newspaper attempted to reach Coun. Maurice Dupelle, the vice-chair of the Cornwall police services board, but did not receive a response before the Friday deadline.
The newspaper also reached out to Cornwall Mayor Justin Towndale, who also sits on the police board. Towndale said he was not in a position to comment as the police board retained authority on such matters and communication would be through the vice-chair at the current time.
Spowart's leave comes at a turbulent time for the CPS and the board with the spotlight during a city council meeting in late May on the high number of police service employees on leave. During a discussion on enforcing traffic infractions in Cornwall, Coun. Claude McIntosh said the force was hamstrung by having about 40 per cent of its workforce on leave and that there simply wasn't the person-power available to do effective enforcement.
Coun. Syd Gardiner asked those at the council table, "Why are so many out on sick leave or stress leave? We need to know that.''
Later that week, the resignation of police board chair Michel Payette was announced. Dupelle, vice-chair, announced Payette's resignation at the end of the public portion of the board's meeting, noting it was effective immediately.
No other comment was made regarding the resignation.
Following Dupelle's announcement, as is usually the practice, the board adjourned the public portion of its meeting to proceed to the in-camera portion. Dupelle advised members there would be no customary break, indicated the session would be a brief one and said only Spowart's presence was required.
Late this past week, sources with the CPS, speaking on condition of anonymity, told the newspaper there have been employee concerns about leadership at the police department that were not being dealt with by the board.
Sources said that earlier this year a third-party, independent survey was completed by CPS employees and that the concerns raised in the survey had been brought to the board.
Police services boards provide civilian policy and financial oversight to their police services, which includes the hiring and oversight of chiefs of police, based on the Police Services Act and other provincial legislation.
Boards hold the chief responsible for ensuring operations are being conducted properly, but cannot direct operations.
thambleton@postmedia.com
twitter.com/FreeholderTodd