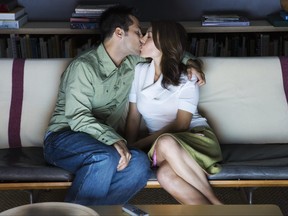 A reader can't seem to find a boyfriend who is "marriage material."

Photo by file photo

/

Getty Images
Reviews and recommendations are unbiased and products are independently selected. Postmedia may earn an affiliate commission from purchases made through links on this page.
DEAR ABBY: I am 36, still single and depressed about it. I recently met someone who seemed perfect. He has his own place with laundry facilities, and his job is the kind where he doesn't have a bunch of other people in his life. So when he asked me over, I went.
I thought because our friends and family were similar, his values would be, too. I expected he would want to get to know me and have a conversation, but he went right for kissing. I'm so disappointed. Then he told me he doesn't want a relationship! Why did he do that? Why do they want to kiss but then not have a relationship? Does he prefer to sit home each night alone and enjoy someone only on Saturdays? What IS that?
I want someone all the time in my life, like a married couple has. My parents are still together. They had a few problems along the way, but they are still together. Why are the men I meet not marriage material? — ON WRONG PATH IN PENNSYLVANIA
DEAR WRONG PATH: When searching for a relationship, there's more to take into consideration than how nice the man's apartment is, whether it has laundry facilities and how many co-workers he may have at his job. The man you met may have thought you were interested in a hookup because you went to his place without first getting to know him in a neutral setting, as most women do these days.
Your noon-hour look at what's happening in Toronto and beyond.
By clicking on the sign up button you consent to receive the above newsletter from Postmedia Network Inc. You may unsubscribe any time by clicking on the unsubscribe link at the bottom of our emails or any newsletter. Postmedia Network Inc. | 365 Bloor Street East, Toronto, Ontario, M4W 3L4 | 416-383-2300
Thanks for signing up!
A welcome email is on its way. If you don't see it, please check your junk folder.
The next issue of Your Midday Sun will soon be in your inbox.
Where are you meeting these prospects? You might have better luck if you find activities you enjoy where you can meet people of both sexes with whom you share similar interests. If you do, your chances of meeting quality people will increase.
RECOMMENDED VIDEO
DEAR ABBY: I'm part of a group chat with two dear old friends. We are attorneys with lengthy and distinguished careers. Like so many, we started the chat during the pandemic, when I was living abroad and unable to get back to the U.S. We have continued the chat as we live in different states now. We use it to check in with each other daily or share frustrations, opinions and thoughts on current events and life's challenges.
Recently, one of the women wrote that during her last physical, her doctor recommended a biopsy. Then she said, "I'm not asking for either of you to share your research, opinions or advice just yet. I just wanted to let you know what is going on, and I'll keep you updated as I learn more."
I was upset when I read that statement, especially since she does not hesitate to offer opinions or research of her own. I feel quite over this 20-year friendship. I just don't think that's the way to talk to friends. Do you agree? — PERTURBED IN CALIFORNIA
DEAR PERTURBED: I do NOT agree. "Dear old friends" can say just about anything to each other without them overreacting the way you seem to have. If you felt hurt or slighted by what the woman wrote after learning that she might have a malignancy, pick up the phone and TELL her how you felt and why. But to drop someone at this point would be cruel and uncalled for.
— Dear Abby is written by Abigail Van Buren, also known as Jeanne Phillips, and was founded by her mother, Pauline Phillips. Contact Dear Abby at DearAbby.com or P.O. Box 69440, Los Angeles, CA 90069.