The Conservative party leader says English speakers risk being marginalized if they continue to vote for the Liberals.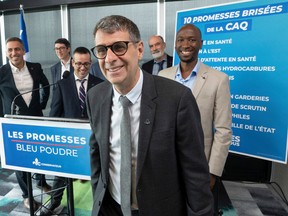 Quebec Conservative Party leader Éric Duhaime leaves the podium after speaking to the media while campaigning, Monday, Sept. 26, 2022, in Laval.

Photo by Ryan Remiorz

/

The Canadian Press
Incumbent immigration minister Jean Boulet should be dropped as a candidate in the Quebec election, says Conservative Party Leader Éric Duhaime.
Speaking on a radio program in Quebec City on Thursday, Duhaime said Boulet should be excluded for saying 80 per cent of immigrants don't speak French, don't work and don't adhere to Quebec values.
Sign up to receive daily headline news from the Montreal Gazette, a division of Postmedia Network Inc.
By clicking on the sign up button you consent to receive the above newsletter from Postmedia Network Inc. You may unsubscribe any time by clicking on the unsubscribe link at the bottom of our emails. Postmedia Network Inc. | 365 Bloor Street East, Toronto, Ontario, M4W 3L4 | 416-383-2300
Thanks for signing up!
A welcome email is on its way. If you don't see it, please check your junk folder.
The next issue of Montreal Gazette Headline News will soon be in your inbox.
"I don't understand how he can still be a candidate" for the Coalition Avenir Québec, Duhaime told Radio X host Dominic Maurais.
CAQ Leader François Legault "said he was disqualified to be (immigration) minister, but at the same time, he's telling people to vote for him," Duhaime said.
Duhaime added he's concerned about Legault's repeated comments about immigration, the most recent coming Wednesday, when he said accepting more than 50,000 immigrants a year would be "suicidal for the Quebec nation."
"It's always a problem for the CAQ to talk about immigration," Duhaime said. "I think it's giving a bad image of Quebec. It's not true that Quebecers are intolerant. Quebecers are among the most welcoming people in the world.
"I look in all the small villages, the immigrants who are there are like family. The people from there will buy them winter coats. That's how we Quebecers are, and François Legault is giving us an image as intolerant people, and he's harming the province's reputation."
On another radio show, Duhaime said his party is making a final pitch to anglophones to abandon the Liberals and vote for the Conservatives.
Duhaime told CJAD 800 host Elias Makos non-francophones are joining his movement and he hopes to pick up seats on the island of Montreal on Oct. 3.
"A lot of non-francophones are getting in and I'm happy about that," Duhaime said. "We'll be in the west end of Montreal on Saturday, in the Jacques-Cartier riding, and I will make a bilingual speech.
"I want to make a final pitch to the anglophone community. I don't think anglophones have any interest in being part of a very small party (the Liberals) that only represents a tiny constituency."
Duhaime said the Liberals risk becoming a marginalized party as they have polled poorly among francophone voters.
However, more recent polls place the Liberals in second behind the CAQ, and the polling aggregate site Qc125.com predicts the party will form the official opposition.
Duhaime, who became known for his opposition to COVID-19 restrictions, said he represents a growing movement of people who are frustrated with the government and want to elect a party that will push to protect individual freedoms.
"I'm not radical at all," he said. "My leaning is toward individual freedoms and libertarianism. I want to make sure we keep our faith in our political institutions in Quebec."
Duhaime indicated concern about the possible splitting of votes among the parties. While the Conservatives appear to be in a statistical tie for second place in terms of popular support, his party is predicted to win between zero and four seats.
Duhaime said he fears there will be a political malaise among a large swath of the population if, say, the Conservatives pull in 20 per cent support but fail to win a riding.
"We need our voices to be heard within Parliament," he said. "Our voice needs to be heard."
jmagder@postmedia.com
twitter.com/jasonmagder
Quebec should target Aboriginal reserves in fighting illegal guns trade: Duhaime

Duhaime flirting with official party status amid 'distortion of the vote'