Whether you choose sparkly new earrings, a necklace, bracelet or beyond, Rebecca Tay showcases five pieces of jewelry ready to be loved and worn.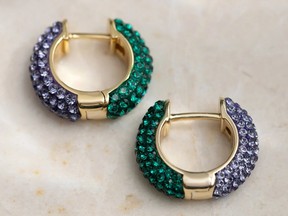 Reversible hoop earrings, $130 at Hillberg & Berk, hillbergandberk.com.
jpg
Reviews and recommendations are unbiased and products are independently selected. Postmedia may earn an affiliate commission from purchases made through links on this page.
There's nothing like a new piece of jewelry to act as a pick-me-up as we head into the darker, colder season.
Not only is it something you can wear every day without fear of judgment about the last time you showered, it will also catch your eye every so often and bring you a sense of private pride and joy.
Start planning for your weekend with expert recommendations from our team of writers on what to cook, where to dine, and the perfect wine pairing delivered straight to your inbox on Thursday at noon.
By clicking on the sign up button you consent to receive the above newsletter from Postmedia Network Inc. You may unsubscribe any time by clicking on the unsubscribe link at the bottom of our emails. Postmedia Network Inc. | 365 Bloor Street East, Toronto, Ontario, M4W 3L4 | 416-383-2300
Thanks for signing up!
A welcome email is on its way. If you don't see it, please check your junk folder.
The next issue of West Coast Table will soon be in your inbox.
We encountered an issue signing you up. Please try again
Whether you choose sparkly new earrings, a necklace, bracelet or beyond, Rebecca Tay showcases five pieces of jewelry ready to be loved and worn.
TWO IN ONE
We're not quite sure why we've never seen this approach to hoop earrings before, but it sure is clever. They're reversible, so you can choose which colour appears in front while also offering a more unique view for anyone sitting behind you. Designed by Canadian brand Hillberg & Berk, they come in four different colour combos — which, if you get them all, is basically like adding eight pairs of earrings to your collection.
Hillberg & Berk, hillbergandberk.com | $130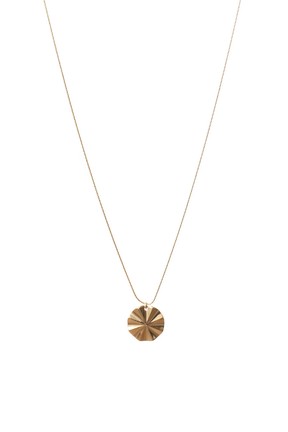 PENDANT PARTY
We've said it once, but we'll say it again, you simply can't go wrong with a gold pendant necklace, and we're loving this 'Mila' version by Vancouver brand Lisbeth Jewelry. Whether you layer it with a chunky necklace and a series of other pendants — très cool — or wear it on its own with a deep V-neck top (so, so elegant), it's a delicate, versatile piece that will soon be on high rotation in your wardrobe.
Lisbeth Jewelry, lisbethjewelry.com | $84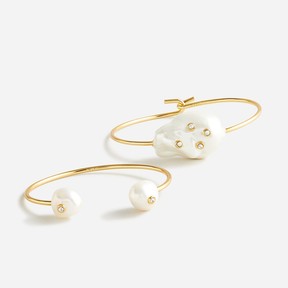 PEARLY WHITES
Pearls have really seen a resurgence in the past few years, losing any old-fashioned, staid connotations they may have held. Case in point: this pair of freshwater pearl bangles, which also feature glass stones and gold plated brass wire for a bit of extra sparkle. Try wearing them over long sleeves rather than under for a look that's fashion-forward and fashion editor-approved.
J.Crew, jcrew.com | $70.50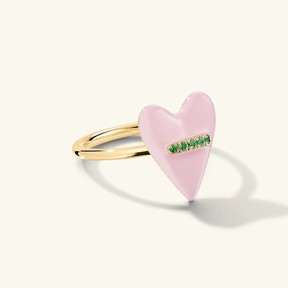 OPEN HEART
The new Heart collection by trendy Canadian brand Mejuri is the perfect mix of classic and contemporary. Bold and a bit abstract, it comes in a necklace and a ring and a range of materials: think 14k yellow gold with diamonds, pink enamel with vibrant tsavorite, black enamel with white sapphires, or cream enamel with blue sapphires. Whichever version you choose, it's a sweet, playful statement piece.
Mejuri, mejuri.com | $128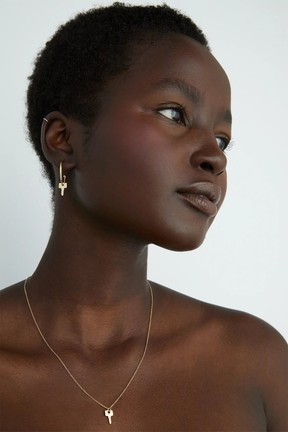 UNDER LOCK & KEY
Does this little key charm necklace and matching hoop earrings remind anyone else of their third grade diary? The one that came with a tiny little padlock that could be unlocked with a universal, near-notchless key? If not, never mind. If so, this set offers a bit of nostalgia that should perk you up every time you look at it.
Oak + Fort, ca.oakandfort.com | $$22 each