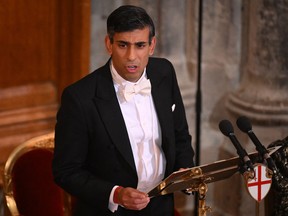 Britain's Prime Minister Rishi Sunak speaks during the Lord Mayor's Banquet at Guildhall in central London on November 28, 2022.

Photo by DANIEL LEAL

/

AFP via Getty Images
In a speech on Monday, Rishi Sunak, the new U.K. prime minister, accused China's Communist government of sliding into "ever greater authoritarianism," particularly in regards to its crackdowns against anti-COVID lockdown protests in most major cities.
He condemned Beijing for the beating of a BBC journalist covering the demonstrations in Shanghai and confessed the West's attempts to democratize and soften China's dictatorship through trade integration had failed. He then lauded the protestors and announced the British Army would be joining war games in Japan meant to simulate the invasion of a Pacific island – a very thinly disguised imitation of a potential Chinese invasion of Taiwan.
As the Canadian national soccer teams head to their respective FIFA World Cups, Derek Van Diest is on the scene to cover all the action. Expect expert insights and analysis in your inbox daily throughout the tournaments, and weekly on Thursdays for the rest of the season.
By clicking on the sign up button you consent to receive the above newsletter from Postmedia Network Inc. You may unsubscribe any time by clicking on the unsubscribe link at the bottom of our emails. Postmedia Network Inc. | 365 Bloor Street East, Toronto, Ontario, M4W 3L4 | 416-383-2300
Thanks for signing up!
A welcome email is on its way. If you don't see it, please check your junk folder.
The next issue of Corner Kicks with Derek Van Diest will soon be in your inbox.
What have we heard about this past weekend's mass demonstrations from Canada's Trudeau government? Crickets.
Well, that's not entirely true. Heading into a cabinet meeting on Tuesday, Prime Minister Justin Trudeau stiffened his backbone long enough to say he thought everyone in China should be allowed to express themselves. He also promised to remind the Chinese regime that Ottawa will stand up for free expression whenever it comes to COVID policy. (You know, unless you're a Canadian trucker who disagrees with his government, then he will invoke the most extreme law in the land to shut you up and seize your property.)
In Sunak's speech, the British PM also refused to elevate the security threat posed by China to the same level as that of Russia and was swiftly criticized by members of his own party for "going soft."
Meanwhile, the Canadian Liberal caucus just swooned at Trudeau's mealy-mouthed remarks, as they do with everything Trudeau says.
RECOMMENDED VIDEO
The timidity of the Trudeau Liberals towards China is a national scandal.
Of course, there is the Liberal refusal to divulge details about which candidates accepted money from the Chinese government or its front organizations during the 2019 federal election. The cash is a clear violation of Canadian law, but the Liberals are doing all they can to keep that influence buying from being investigated by a Commons committee.
Trudeau has even claimed not to have been briefed on the meddling in our democratic process, despite CSIS claiming it alerted him to the Chinese plot in January of this year and despite Trudeau having raised the "aggressive" interference with Chinese President Xi Jinping earlier this month at a G20 summit – then boasting to media about their conversation.
The Libs have done all they can to slow a House of Commons' investigation into the theft or transfer of top-secret material relating to highly contagious viruses from the National Microbiology Laboratory in Winnipeg by Chinese-affiliated scientists.
The Trudeau government only very reluctantly stopped inviting Chinese commanders to observe how our armed forces train for winter warfare. Nor has it shown much concern about reports that Beijing is operating four Chinese police stations on Canadian soil for the purposes of intimidating Chinese nationals studying or working here.
And last year, when the House of Commons voted unanimously to brand as "genocide" China's treatment of its Uyghur minority, only Trudeau and his cabinet abstained.
Most Canadians know about Trudeau's 2013 admiration for China's "basic dictatorship," but many may not remember in 2016, on his first trip to China, Trudeau lectured the Chinese on human rights, then immediately confessed Canada didn't have a perfect record, either, and offer to work with China to make both countries better.
The Liberals' new Indo-Pacific strategy, released this week, designed to help contain China, is so anemic it will do no such thing.
And the U.S., U.K. and Australia find us so untrustworthy on China, they didn't even tell us in advance they were establishing a new regional security compact, AUKUS.
I'm not sure why Beijing is wasting money trying to get fellow travellers elected to Parliament when they already have the Trudeau Liberals.