The Coalition Avenir Québec was on track to capturing four of six seats late Monday.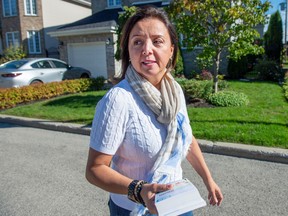 CAQ candidate Alice Abou-Khalil is shown canvassing in Fabre riding, where she held a 300-vote lead over her Liberal rival late Monday.

Photo by Peter McCabe

/

MONTREAL GAZETTE
For live coverage of election day, please tap here.
Sign up to receive daily headline news from the Montreal Gazette, a division of Postmedia Network Inc.
By clicking on the sign up button you consent to receive the above newsletter from Postmedia Network Inc. You may unsubscribe any time by clicking on the unsubscribe link at the bottom of our emails. Postmedia Network Inc. | 365 Bloor Street East, Toronto, Ontario, M4W 3L4 | 416-383-2300
Thanks for signing up!
A welcome email is on its way. If you don't see it, please check your junk folder.
The next issue of Montreal Gazette Headline News will soon be in your inbox.
Red Laval is now decidedly blue.
François Legault's Coalition Avenir Québec was on track to capture four of six Laval seats in Monday's provincial election and complete a stunning reversal from 2018 as the party won the right to form a second straight majority government. All six seats featured two-way battles between the CAQ and the Liberals.
CAQ candidates Christopher Skeete and Valérie Schmaltz were declared elected in Sainte-Rose and Vimont by Radio-Canada, while their colleagues Alice Abou-Khalil and Céline Hatayan led in Fabre and Laval-des-Rapides as of late Monday night. The Quebec Liberal Party held on to Chomedey and was leading in Mille-Îles.
A CAQ majority in Laval would mark a drastic change from four years ago, when the Liberals captured five seats. At the time, Christopher Skeete, in Sainte-Rose, was the only CAQ candidate to be elected on the island.
The CAQ's domination in Laval "is a reflection of François Legault's leadership and the respect he has earned here," Skeete said Monday night in a telephone interview after his win was confirmed. "His leadership really stood out, and especially the way he managed the COVID-19 pandemic. This was something that came up a lot in my discussions with voters in the riding. People wanted an experienced team at the helm."
Skeete was declared elected with 38.9 per cent of the vote to 24.1 per cent for his main challenger, Liberal Michel Trottier, a former Laval municipal councillor who twice ran for mayor. As of late Monday night, he led by more than 5,000 votes.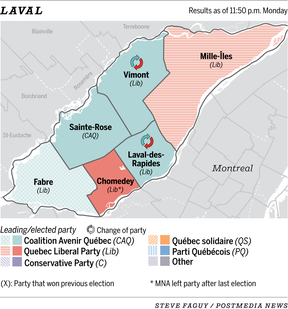 In the first Legault government, Skeete served as parliamentary secretary for relations with the English-speaking community, reporting directly to the premier.
Sainte-Rose is the newest of Laval's six ridings, having been created in time for the 2014 election.
In Vimont, Schmaltz captured 34.4 per cent of the vote compared with 30 per cent for her Liberal challenger, Anabela Monteiro. Schmaltz, a former journalist who has also worked as a communications specialist, recently headed the CAQ's local action committee in the riding.
Her win broke a string of six consecutive wins in Vimont for the Liberals. Three-time Liberal MNA Jean Rousselle wasn't running this year, so the party placed its hopes in Monteiro, a community television journalist who spent about a decade as Rousselle's top political adviser.
Including Rousselle, four of the five Liberal winners from 2018 left politics before the election, including four-term MNA Francine Charbonneau. The lone Liberal holdover this year was two-term MNA Saul Polo in Laval-des-Rapides.
With 438,366 inhabitants in 2021 and median income of $40,400, Laval is Quebec's third most populous city after Montreal and Quebec City. Immigrants made up about 29 per cent of the population in 2016, roughly comparable to the situation in Montreal and almost triple the provincial average. That made Laval the third-largest region of destination for newcomers who settle in Quebec.
The closest race of the evening occurred in Fabre, where CAQ hopeful Alice Abou-Khalil and Liberal Sonia Baudelot were neck-and-neck for most of the evening. As of 11:30 p.m., Abou-Khalil led her opponent by about 300 votes.
Since its creation in 1965, Fabre has been mostly loyal to the Liberals — though the Parti Québécois managed to win the riding three times in the 1970s and 1990s with marquee candidates such as future premier Bernard Landry and future immigration minister Joseph Facal.
Abou-Khalil, an information technology and cybersecurity expert, was running after unsuccessfully attempting to win Chomedey in 2018 for the CAQ.
Baudelot, an Air Transat flight director and former mayoral hopeful, made a name for herself in the 2017 municipal elections where she shocked observers by garnering more than 15 per cent of the vote just six months after having created her party.
In Laval-des-Rapides, CAQ candidate Céline Hatayan led Polo by 34.1 per cent to 29 per cent as of late Monday night. Polo won a very close race in 2018, edging out the CAQ candidate at the time by a mere 271 votes.
Hatayan, an economic development expert who spent two decades working for the City of Montreal and Montreal International, was most recently director of international corporate affairs at Ubisoft, the French video-games maker that runs a major studio in Montreal.
In Mille-Îles, Liberal Virginie Dufour overtook Julie Seide of the CAQ to lead by about 600 votes late Monday night. Her 32.8 per cent share of the vote compared with her rival's 30.7 per cent.
Before running for the Liberals this year, Dufour spent eight years as a municipal councillor and a member of the executive committee in Laval mayor Marc Demers's administration.
Seide, a chemist by trade, most recently served as an adviser to Benoît Charrette, the minister responsible for the fight against racism. A native of Montreal North, she unsuccessfully ran as a candidate in the Bourassa-Sauvé riding in the 2018 election.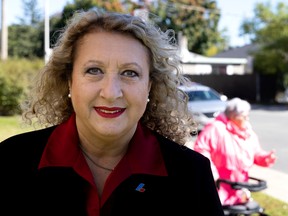 Sona Lakhoyan Olivier's win Monday night helped cement Chomedey's status as a Liberal fortress.

Photo by Allen McInnis

/

Montreal Gazette
The Liberals' strongest showing took place in Chomedey, where public sector employee Sona Lakhoyan Olivier defeated her CAQ challenger, George Platanis, a senior executive at the International Air Transport Association. Lakhoyan Olivier captured almost 37 per cent of the vote.
Her win helped to cement Chomedey's status as a Liberal fortress. In 12 elections since the riding was created in 1981, the Liberals have now prevailed every time — with candidates such as one-time deputy premier Lise Bacon and former environment minister Thomas Mulcair, who would subsequently make the jump into federal politics.
ftomesco@postmedia.com
Tap here for complete Quebec election coverage