The former Bank of Canada governor painted a stark picture of Canada's economic situation, while the Liberals still seem to think they are doing a bang-up job
Get the latest from John Ivison straight to your inbox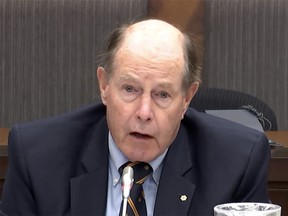 Former Bank of Canada governor David Dodge appears before the House of Commons finance committee on Monday, September 25, 2023.
Photo by parlvu.parl.gc.ca
David Dodge was like the grown-up handing out black coffee and aspirins the morning after a night of teenage bacchanalian excess.
The former Bank of Canada governor was testifying before the House of Commons finance committee on Monday and his message was unequivocal: The party's over.
Article content
The Liberal government has rarely encountered a problem it didn't believe could not be solved by throwing borrowed money at it.
Article content
But Dodge painted a stark picture. Structural shifts are taking place, including an aging population, climate change and the introduction of new technologies like AI, that will require massive investment to manage.
Adapting to these changes will incur costs and require governments to spend a smaller share of their revenue on current services. "This is not a pleasant prospect," he said.
These challenges could be managed more easily if real incomes were growing and borrowing costs were low. But, as Dodge pointed out, per capita real incomes have been falling and the cost of servicing debt has been rising.
(New figures from Statistics Canada this week show that government expenses were up 7.4 per cent in the second quarter compared to the previous year, driven by employee compensation costs and interest expenses that rose 20.4 per cent, or $4 billion.)
"Governments cannot borrow their way out of these difficult choices," he said.
In aggregate, we are doing really poorly
Anemic economic growth rates are compounding the problem of rising interest rates. When the economic growth rate is less than the interest rate as it is now, the burden of government debt increases, rather than erodes, he said.
Article content
Dodge did not bite when baited by Conservative MPs who asked whether the federal government is working at cross-purposes to the Bank of Canada in the fight against inflation. But in a response that would have made Sir Humphrey Appelby blush, he said the government is "not providing additional disinflationary pressure."
He made special mention of Canada's low capital investment and productivity, "a long-standing problem" that has gotten worse since 2015, with the fall-off in investment by the oil and gas industry, which is in part a result of regulatory uncertainty.
"In aggregate, we are doing really poorly," he said. "Unless we can get the output per worker or output per unit of invested capital up, then we have a problem."
Despite his efforts at diplomacy, Dodge is clearly still smarting from comments made by Finance Minister Chrystia Freeland in 2020, when she rejected the idea that inflation was a bigger potential problem than prices falling and the possibility that interest rates might rise sharply. At the time, she said she knew the debt crisis of the mid-1990s had scarred the generation who fought it (Dodge was deputy minister of finance at the time) but that it would be a "poor general who fought the last war" over again. "Doing too little is more dangerous and potentially more costly than doing too much," she said, as she prepared to deliver budgets that added hundreds of billions of dollars to the national debt.
Article content
Dodge laboured mightily Monday not to scoff at the minister's hubris, saying that the government made logical decisions in 2020 to deal with COVID. But he said that by the second half of 2021 "we should have known better."
"There were a few of us who kept saying that we're going to see higher rates," he said.
Dodge was right then and he is no doubt right now. None of the data are particularly encouraging.
Related Stories
Ivison: The centre strikes back with new political party

John Ivison: If Anita Anand wants government savings, she can try the reckless department she ran
The inevitable echo of a period of sustained interest-rate increases is rising unemployment and slowing retail sales. The signs of slowing labour demand are apparent, with job vacancies down and unemployment up to 5.5 per cent in August from 4.9 per cent in July 2022. As RBC Economics noted, the 0.5-percentage-point increase over the last four months is the largest outside the pandemic since the 2008–09 recession.
Ten-year government bond yields surged over 3.91 per cent in September, the highest level in 15 years, reflecting, in Dodge's words, a lack of confidence that the government has the situation under control.
Article content
GDP in the second quarter of this year was 0.2 per cent lower than the previous year and another decline is expected in the third quarter, technically pushing Canada into recession.
The government has tried to apply some lipstick on this omnivorous, hoofed mammal. Freeland claimed this week that 980,000 more Canadians are in the job market than before the pandemic, which is just as well, given the inundation of new immigrants and students in the last four years.
She also said that, according to the OECD, Canada will see the strongest economic growth in the G7 this year and next.
Should the country fulfill that forecast, it would be eligible for a dubious achievement award, given most of our peers are doing even worse.
Against all the evidence, the Liberals still seem to think they are doing a bang-up job and we will all move forward into broad, sunlit uplands if we trust in their continued mediation.
"We have the compass. We know how to get to a safe harbour," as Freeland once put it.
But the intervention that is required is precisely the one for which this government has shown no inclination in eight years — namely, cutting spending on consumption to produce resources to raise Canada's productivity.
National Post
jivison@criffel.ca
Article content
Get the latest from John Ivison straight to your inbox