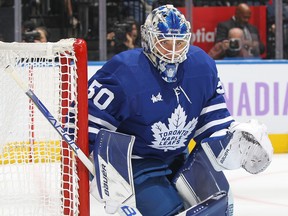 Erik Kallgren of the Toronto Maple Leafs protects the corner against the Boston Bruins during an NHL game at Scotiabank Arena on Nov. 5, 2022 in Toronto.

Photo by Claus Andersen

/

Getty Images
PITTSBURGH — Sheldon Keefe figures Erik Kallgren has forgotten what happened the previous time the goaltender was in the Maple Leafs net.
The Leafs coach certainly has moved on.
As the Canadian national soccer teams head to their respective FIFA World Cups, Derek Van Diest is on the scene to cover all the action. Expect expert insights and analysis in your inbox daily throughout the tournaments, and weekly on Thursdays for the rest of the season.
By clicking on the sign up button you consent to receive the above newsletter from Postmedia Network Inc. You may unsubscribe any time by clicking on the unsubscribe link at the bottom of our emails. Postmedia Network Inc. | 365 Bloor Street East, Toronto, Ontario, M4W 3L4 | 416-383-2300
Thanks for signing up!
A welcome email is on its way. If you don't see it, please check your junk folder.
The next issue of Corner Kicks with Derek Van Diest will soon be in your inbox.
As the Leafs look to continue their success on the road at PPG Paints Arena against the Pittsburgh Penguins on Saturday night, Keefe will turn to Kallgren and give Matt Murray a night off.
It will be Kallgren's first action since Monday, when he coughed up the puck late in the third period against the New York Islanders, leading to the tying goal, before the Isles beat the Leafs in overtime.
"I don't overthink it, I'm going to be honest," Keefe said Saturday morning. "These games come fast and furious, so we just focus on the game that's coming. I have already forgotten about that situation.
"Erik has dealt with different situations that have come his way very well throughout his time here, so he will have a fresh mind and be ready to go."
Kallgren is 2-2-4 with an .891 save percentage in nine games.
There will be one other lineup change from the Leafs group that won in Minnesota on Friday afternoon, two days after the four-game trip started with a victory in New Jersey against the Devils.
Wayne Simmonds, who played in his fifth game on Friday, will be scratched and Denis Malgin will come back in at forward.
Winger Nick Robertson will sit for the second game in a row. Defenceman Conor Timmins, acquired this week from the Arizona Coyotes, will continue to wait before making his Leafs debut.
The Leafs will attempt to keep a perfect road record in November going — they're 4-0 in away games this month — and the red-hot Mitch Marner carries a 15-game point streak into the game.
Only five Leafs — Darryl Sittler in 1977-78 (18 games), Ed Olczyk in 1989-90 (18 games), Dave Andreychuk in 1993-94 (16 games), Babe Dye in 1921-22 (16 games) and John Anderson in 1983-84 (16 games) — have had a longer point streak in franchise history.
In his career against the Penguins, Marner has 15 points (two goals and 13 assists) in 16 games, including two points in two games this season.
It's the third time in 16 days the Leafs and Penguins will meet, and the last time in 2022-23. Pittsburgh won 4-2 in Toronto on Nov. 11 and the Leafs won 5-2 here on Nov. 15.
The Penguins did not have an availability in the morning, though it's expected Casey DeSmith will start in goal. Since losing to the Leafs, the Penguins have won five in a row, including a victory in Philadelphia on Friday night.
"Without question, it seems they have their swagger back and they're coming with lots of pace and energy and confidence," Keefe said of the Penguins. "They have the ability, as they have shown over time, to be a team that when they find their rhythm, they're really tough to handle. In the two games we've played them, we've felt that.
"We just have to continue to focus on the things that have given us a chance to win on this trip. The guys are played really well as a group of five and certainly we need to do that here tonight."
Toronto is 3-0-1 in the second game of back-to-back sets this season.
The Leafs, 8-1-3 in their past 12, finish the trip on Monday in Detroit against the Red Wings.
RECOMMENDED VIDEO
Goalie Ilya Samsonov, who suffered a knee injury on Nov. 5 against Boston, has been back on the ice during the trip.
"I would say he's progressing really well," Keefe said. "It seems like he's doing more and is less limited each day. I would say we're getting there (for Samsonov's return)."
tkoshan@postmedia.com
twitter.com/koshtorontosun