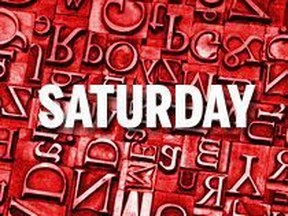 Saturday Letter

Photo: Ilustration

/

Toronto Sun
Tragic loss
Re "Child is a tragedy that can happen to anyone" (Liz Brown, June 28): You show compassion for a poor mother who accidentally left her child in the car I would like to celebrate my courage. As far as I can see, I agree that a terrible tragedy can happen to anyone, especially in the distractions and multiple stresses that are part of most people's lives. This tragedy can happen to me. With her heartfelt wishes and gratitude to the staff Liz.
Maria King
Ireland, Naas
(Pray not to happen again)
Life Support
Why is the healthcare system making our serious mistakes continuing to be ignored by our politicians? Burnout of health care workers, nurses quitting their profession, long waiting times in emergency rooms, lack of hospital beds, people who have to go to the United States for treatment, emergency medical institutions From time to time there are articles about not being able to respond to emergencies. It's all stuck in the hospital. None of this is acceptable, but it's still happening here in Ontario. why? I would like to congratulate the new Minister of Health. Now that she's in this prestigious position, what are you going to do with the horribly failed system in Ontario? Like many medical ministers before her, will she turn a blind eye to the dire conditions in which our medical "care" system is located? Like those before her, she claims that we have one of the best medical systems in the world, ignoring the fact that hospitals don't have enough doctors and nurses. mosquito? Will she continue to overlook long emergency wait times? Will she spare no thought about the shortage of emergency medical personnel? Is she worried that they are stuck in the hospital and cannot reach a serious emergency when they are urgently needed? Will OHIP continue to fund foreign hospitals instead of putting that money into our system? Does she admit that our system is broken? Does she admit that it broke before the pandemic? Will she meet a real patient who desperately couldn't get the medical care they needed when they needed it? Will she personally meet the families of those who died while waiting for care they had never come to? Does she prioritize healthcare?
KaitlinLowe
Windsor
(You have a busy schedule for her)
Speak freely
Re "A Record Nobody Wants" (Joe Warmington, June 24): What is modern authoritarianism? Modern authoritarianism is censorship, media regulation, opposition suppression, opposition bans, and dissident imprisonment (or more). Amartya Sen "The Idea of ​​Justice". It's not what liberals give you, it's what they rob.
T.L. Videki
(Shhhhhh! Banned from the internet)
From the newsroom to the noon inbox, Toronto Sun's latest headlines, stories, opinions and photos. By clicking the
sign-up button, you agree to receive the above newsletter from Postmedia Network Inc. You can unsubscribe at any time by clicking the unsubscribe link at the bottom of the email. Postmedia Network Inc. | 365 Bloor Street East, Toronto, Ontario, M4W 3L4 | 416-383-2300
Thank you for registering.
A welcome email has been sent. If you don't see it, check your junk folder.
Your Midday Sun's next issue will arrive in your inbox shortly.