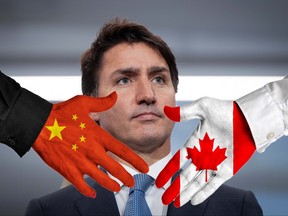 Prime Minister Justin Trudeau continues to parse his words carefully to avoid telling Canadians the truth about alleged foreign interference in our elections, writes columnist Brian Lilley.
We have public reports tabled with Parliament discussing allegations of foreign interference, including by China, but don't ask Justin Trudeau about this matter.
For the second day in a row, Trudeau dodged and weaved as Conservative Leader Pierre Poilievre asked questions about China's alleged attempts to subvert our elections.
As the Canadian national soccer teams head to their respective FIFA World Cups, Derek Van Diest is on the scene to cover all the action. Expect expert insights and analysis in your inbox daily throughout the tournaments, and weekly on Thursdays for the rest of the season.
By clicking on the sign up button you consent to receive the above newsletter from Postmedia Network Inc. You may unsubscribe any time by clicking on the unsubscribe link at the bottom of our emails. Postmedia Network Inc. | 365 Bloor Street East, Toronto, Ontario, M4W 3L4 | 416-383-2300
Thanks for signing up!
A welcome email is on its way. If you don't see it, please check your junk folder.
The next issue of Corner Kicks with Derek Van Diest will soon be in your inbox.
On Tuesday, Poilievre repeatedly asked Trudeau if he had been briefed at all by officials on any interference by China in Canadian elections. It was a question that Trudeau didn't want to answer then, and he still didn't want to answer Poilievre's questions on Wednesday.
The Conservative leader noted a Global News report that came out in early November which alleged 11 federal candidates had received funding from China. Despite making this issue into an international face off with China, Trudeau claimed that he was never given a briefing about Chinese funding.
"Since Nov. 7, since that news broke, did he ask CSIS whether there had been whether there was any evidence about that type of allegation?" Poilievre asked of Trudeau.
"I think that you and all Canadians understand that I have to be very careful in answering questions about national security. Canada and its allies are regularly targeted by foreign states like China, including during election campaigns," Trudeau said.
What he wouldn't answer is whether he asked for and received a briefing on the claims since the story broke.
"The prime minister said yesterday when I asked if there was any electoral interference from a foreign government that there was none that significantly changed the outcome of the election. Was there any interference to his knowledge? Yes, or no?" Poilievre asked.
Recommended video
Trudeau repeated his answer.
"I wonder at what point does the interference go from insignificant to a lot?" quipped Bloc Quebecois leader Yves-François Blanchet.
Poilievre and Blanchet each raised a good point, one every Canadian should ask about. At which point does the interference in our elections go from insignificant to significant? How much interference do we allow before we say enough?
Documents tabled with the Commons committee on procedure and House affairs show that Trudeau was briefed on foreign interference in January 2020 and in January and February 2021. The Global News report earlier this month claimed Trudeau had been briefed again at the beginning of this year.
RCMP Commissioner Brenda Lucki has also written to the same committee saying that her police service did not have evidence that the Chinese government provided funding to candidates at that time, but they are examining the wider issue of interference.
Part of the reason for the widespread confusion on this issue has been Trudeau's handling of the file.
When the story broke in early November, they never denied any aspects of the reporting. Both Trudeau and his ministers were asked about it several times, not once did they claim any element of the story was false.
At the G20 leaders meeting, Trudeau even turned this issue into an international incident, making it appear to Canadian media that he had raised the issue with Chinese President Xi Jingping. The issue Trudeau had actually raised with Xi was the claim of China setting up police stations in Canada.
This was only clarified after the spat with China was public and after Trudeau said that he had never been briefed about Chinese money funding Canadian politicians.
At every turn, Trudeau is parsing his words on this issue and trying not to say too much. What he is saying, though, should worry any Canadian who cares about our democracy.