Nadia Albano brightens Celeste Ethier's hair colour and plays up her eyes in new look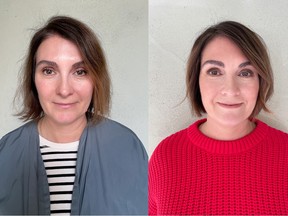 Celeste Ethier is a 49-year-old ophthalmic technician who was looking to change up her look for the festive season. On the left is Ethier before her makeover by Nadia Albano, on the right is her after.
jpg
Reviews and recommendations are unbiased and products are independently selected. Postmedia may earn an affiliate commission from purchases made through links on this page.
Celeste Ethier is a 49-year-old ophthalmic technician who is heading home for the holidays and wanted a new look to celebrate the festive season.
Celeste has fine hair, which has a natural wave to it and had been previously coloured. She wanted to brighten her colour while remaining maintain her brunette colour and wanted a shorter style for easier maintenance. To brighten her colour, I used a gentle high-lifting colour with a caramel tonality that lifts the hair and tones in all on one go. I then touched up her background foundation colour in a rich dark-brown for added depth.
Start planning for your weekend with expert recommendations from our team of writers on what to cook, where to dine, and the perfect wine pairing delivered straight to your inbox on Thursday at noon.
By clicking on the sign up button you consent to receive the above newsletter from Postmedia Network Inc. You may unsubscribe any time by clicking on the unsubscribe link at the bottom of our emails. Postmedia Network Inc. | 365 Bloor Street East, Toronto, Ontario, M4W 3L4 | 416-383-2300
Thanks for signing up!
A welcome email is on its way. If you don't see it, please check your junk folder.
The next issue of West Coast Table will soon be in your inbox.
We encountered an issue signing you up. Please try again
I cleansed her hair with Oribe — Beautiful Color Shampoo and Conditioner, then sprayed the mid-lengths and ends with Oribe — Run-Through Detangling Primer for added hydration. I eliminated two inches from her length, creating a clean and classic jaw-length silhouette.
Before styling I applied Oribe — Maximista Thickening Spray for body building and fullness then blow dried her hair with a round brush. I used a curling wand to create a slight bend around the front of the face and finished the style using Oribe — Superfine Hairspray.
Makeup:
Celeste has a great hand at doing her makeup and I wanted to show her how to play up her eyes for the holidays. I applied a matte cream-based eyeshadow onto the entire eye lid in a deep golden-brown shade. I then used a copper-brown eyeshadow to blend and soften the shadow, creating a soft smoky look. I brightened her inner corners of her eyes with a shimmery highlighter and brightened under her eyes using a cream concealer. I contoured her face with a bronzing powder and swept a deep burgundy blush onto her cheeks. I finished by strategically dusting translucent powder onto her T-zone and under her eyes and opted for a neutral nude lip.
Makeup Used:
Brighten under the eyes: Laura Mercier Secret Camouflage #2
Eyeshadow: Charlotte Tilbury: Matte Eyes to Mesmerize in Chocolate Veil with MAC Eyeshadow Saddle
Brows: Benefit Cosmetics — Gimme Brows in #4.5
Bronzer: Benefit Cosmetics Bronzer Hoola
Blush: Benefit Cosmetics Blush in Java
Highlighter: MAC Soft and Gentle
Lips: NYX Lip Pencil in Sandstorm with lip balm.