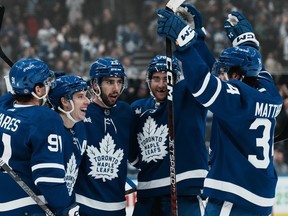 Maple Leafs' Mitchell Marner (second from left) celebrates with teammates after scoring against the Los Angeles Kings during the second period at Scotiabank Arena in Toronto on Thursday, Dec. 8, 2022.

Photo by CHRIS YOUNG

/

THE CANADIAN PRESS
The Maple Leafs aren't in a lot of blowout wins where their physical play generates more buzz than their slick scoring.
But those elements were equally noteworthy in Thursday's 5-0 shutout of the Los Angeles Kings.
As the Canadian national soccer teams head to their respective FIFA World Cups, Derek Van Diest is on the scene to cover all the action. Expect expert insights and analysis in your inbox daily throughout the tournaments, and weekly on Thursdays for the rest of the season.
By clicking on the sign up button you consent to receive the above newsletter from Postmedia Network Inc. You may unsubscribe any time by clicking on the unsubscribe link at the bottom of our emails. Postmedia Network Inc. | 365 Bloor Street East, Toronto, Ontario, M4W 3L4 | 416-383-2300
Thanks for signing up!
A welcome email is on its way. If you don't see it, please check your junk folder.
The next issue of Corner Kicks with Derek Van Diest will soon be in your inbox.
The skinny is that Toronto stays hot, Mitch Marner's consecutive games points streak is at 21 and since a regulation loss on Remembrance Day to Pittsburgh, it has won 10 and got three more points in overtime to keep the division-leading Boston Bruins in sight.
Ilya Samsonov became part of the first consecutive team shutouts since February of 2021 when Jack Campbell and Michael Hutchinson blanked the Oilers during the Canadian COVID-19 cohort.
Samsonov's first Leafs shutout had to survive a five-minute major to the usually docile Pierre Engvall, who whacked Sean Durzi in the back of the neck at the end of a chippy exchange in the third period. Though Engvall was ejected for attempt to injure, the unfortunate Durzi, a former Leafs pick from Mississauga who had an estimated 200 people at Scotiabank Arena to watch his first game here, was the target of booing the rest of the night.
Sheldon Keefe's own run of success with goal challenges kept going when his video assistants spotted an offside to wipe out a Kings goal on the major power play.
A three-goal outburst in 66 seconds of the middle period broke the game open.
But Nick Robertson's bid for full-time work might have hit another wall with a long-term injury. He left the game early with his arm dangling after Matt Roy ran him in the corner, a high hit that resulted in an interference call.
That and another roughhouse play by Adrian Kempe also wasn't converted by Toronto, despite its 13-3 edge in shots for at one stage. The Kings had a couple of slot drives denied by Samsonov one their first power play with Mark Giordano off to keep the first period 0-0.
While the Leafs limited their response to Roy to verbal scolding, Zach Aston-Reese helped ignite the building when he stepped into Gabriel Vilardi with the puck at the L.A. forward's feet. That had Blake Lizotte starting a fight and the ensuing extra minor led to Engvall's goal for the second unit.
MAPLE LEAFS NOTES: Sean Durzi wanted Leafs jersey, but comes home a King

TRAIKOS: At 39 years old, Mark Giordano has surprised Maple Leafs by 'doing absolutely everything'

Murray has been nothing short of remarkable for the Maple Leafs
David Kampf then came down on a 2-on-1 and used Alex Kerfoot as a decoy before snapping it past Jonathan Quick. That was followed by a neat deke by William Nylander on a breakaway.
Then it became a question of when Marner would extend his streak. At the end of a high-pressure shift that he helped dictate, Marner took a puck off the boards in his wheelhouse to drive his 11th. goal blocker high. Auston Matthews finished the scoring with his 14th.
Matt Murray had the shutout Tuesday in Dallas to bring his save percentage up to .932, but with a travel day home thrown in, Keefe had planned for a rested Samsonov to build on his own excellent average of .924.
While Marner was a focus of the Kings, it was Matthews who had the early jump, setting up Nylander and Michael Bunting for quality chances before the Robertson injury scrambled the lines.
The Leafs play Nazem Kadri and Calgary here Saturday.
lhornby@postmedia.com