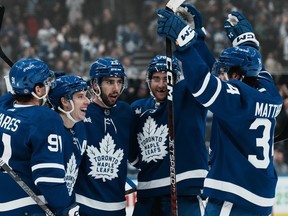 Maple Leafs' Mitchell Marner (second from left) celebrates with teammates after scoring against the Los Angeles Kings during the second period at Scotiabank Arena in Toronto on Thursday, Dec. 8, 2022.

Photo by CHRIS YOUNG

/

THE CANADIAN PRESS
The wins, the streaks and the shutouts continue for the Maple Leafs, but it was a big hit that turned this latest game around.
For a club often chided for not responding when play gets physical or if its skill players are rocked, a second-period check by Zach-Aston Reese was significant in triggering a 5-0 win over the Los Angeles Kings at Scotiabank Arena.
As the Canadian national soccer teams head to their respective FIFA World Cups, Derek Van Diest is on the scene to cover all the action. Expect expert insights and analysis in your inbox daily throughout the tournaments, and weekly on Thursdays for the rest of the season.
By clicking on the sign up button you consent to receive the above newsletter from Postmedia Network Inc. You may unsubscribe any time by clicking on the unsubscribe link at the bottom of our emails. Postmedia Network Inc. | 365 Bloor Street East, Toronto, Ontario, M4W 3L4 | 416-383-2300
Thanks for signing up!
A welcome email is on its way. If you don't see it, please check your junk folder.
The next issue of Corner Kicks with Derek Van Diest will soon be in your inbox.
The Leafs plugger bowled over Gabriel Vilardi with the match scoreless, after Nick Robertson had gone to the dressing room with a serious shoulder injury from getting rammed on an interference call against Matt Roy. Fists flew after Blake Lizotte went after Aston-Reese, but with the extra minor, Pierre Engvall scored, triggering three goals in 66 seconds.
"Reese made a big impact," head coach Sheldon Keefe said. "It got our team upset and kind of raised the temperature of the game. And I liked how we responded after that."
After David Kampf and William Nylander added to the lead, it was time for Mitch Marner to extend his team record consecutive games points streak. Completing a monster forecheck shift with his line — he nearly set up a goal while sitting on his butt behind the Kings net — Marner had a room-service hop off the boards and blasted one past Jonathan Quick high blocker, extending his points streak to 21 games.
"It was a hard shift by us, the puck was just sitting there and I decided to lean into one," Marner said of his 11th goal of the season and the 10th during the streak along with 18 assists. "I tried to stay on the puck, be feisty and we got what we wanted.
"These guys have done a great job helping me achieve this."
MAPLE LEAFS NOTES: Sean Durzi wanted Leafs jersey, but comes home a King

TRAIKOS: At 39 years old, Mark Giordano has surprised Maple Leafs by 'doing absolutely everything'

Murray has been nothing short of remarkable for the Maple Leafs
Since a regulation loss on Remembrance Day to Pittsburgh, Toronto has won 10 and earned three more points in overtime to keep the division-leading Boston Bruins in sight.
Ilya Samsonov became part of the first consecutive team shutouts since February of 2021 when Jack Campbell and Michael Hutchinson blanked the Oilers during the Canadian COVID-19 cohort.
Samsonov's first Leafs shutout had to survive a five-minute major to the usually docile Engvall, who whacked Sean Durzi on the back of the neck with his stick at the end of a chippy exchange in the third period.
Though Engvall was ejected for attempt to injure, the unfortunate Durzi, a 2018 Leafs pick from Mississauga who had an estimated 200 people on hand to watch his first game here, was the target of booing the rest of the night.
Aston-Reese felt Engvall's blow was a follow-through and not cause enough to get kicked out, while Keefe pointed out that Engvall is not exactly on the NHL's goon registry.
Meanwhile, Keefe's own run of success with goal challenges kept going when his assistants spotted an offside to wipe out a Kings' strike on the power play.
"Thank you God, and thank you video coaches, a great job," said Samsonov.
Matt Murray had the 4-0 shutout on Tuesday in Dallas to bring his save percentage up to .932, but with a travel day home thrown in, Keefe had planned for a rested Samsonov to build on his own excellent average of .924. He made 29 saves.
Robertson's bid for full time work might have hit another wall with a long-term injury.
"It's a tough break," Keefe said. "He gives everything he has in a game, had a great pre-season and earned a spot on the team."
Keefe had to scramble the lines after Robertson's injury, but the roster picture brightened on defence when TJ Brodie came back a game earlier than expected from an oblique muscle injury, partnered with newcomer Connor Timmins in his home debut.
Winger Wayne Simmonds is the lone spare forward at present after Semyon Der-Arguchintsev was returned to the Marlies following the Dallas game.
Keefe had forecasted Simmonds coming back in Saturday to face Nazem Kadri and the Calgary Flames, with a call-up expected Friday.
Auston Matthews had Thursday's last goal, in the third period, his 14th as he also heats up.
"Things like (the Aston-Reese) hit are little things that go a long way," Matthews said.
The Leafs play Nazem Kadri and Calgary here on Saturday.
lhornby@postmedia.com