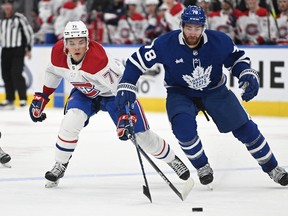 Toronto Maple Leafs defenceman TJ Brodie (78) and Montreal Canadiens forward Jake Evans (71) pursue the puck in pre-season action.
USA Today Sports
Sheldon Keefe was a bit frustrated Wednesday night to be playing two periods with four defencemen while nine others were watching in the stands or at home.
Because NHL teams can only dress as many skaters for exhibitions as in regular-season games (18), the early injuries to Jordie Benn and Carl Dahlstrom forced the coach to move two forwards on defence.
From our newsroom to your inbox at noon, the latest headlines, stories, opinion and photos from the Toronto Sun.
By clicking on the sign up button you consent to receive the above newsletter from Postmedia Network Inc. You may unsubscribe any time by clicking on the unsubscribe link at the bottom of our emails. Postmedia Network Inc. | 365 Bloor Street East, Toronto, Ontario, M4W 3L4 | 416-383-2300
Thanks for signing up!
A welcome email is on its way. If you don't see it, please check your junk folder.
The next issue of Your Midday Sun will soon be in your inbox.
There have been calls to let clubs use an extra forward and defenceman at this stage of camp to maximize evaluation.
"When our bench started to get short, I thought this is a good example," Keefe said. "This time of year, the worst thing that could happen in that scenario (when forced to over-tax someone else on the blueline), is that an NHL player gets injured. That hurts our team, the fans, the league.
"I don't make those decisions, but we had a lot of players in suits (Wednesday) who would have loved an opportunity to play."
FRASER ERASED
A tough break for this year's top pick, centre Fraser Minten of the Western Hockey League Kamloops Blazers.
It turned out Minten damaged his wrist on Saturday against the Ottawa Senators and will not return to the NHL camp. Keefe was very complimentary of his progress in a big-league milieu.
Winger Adam Gaudette was injured the same day when he took an awkward spill and banged up his shoulder. He returned to practice Thursday, albeit in a red no-contact sweater.
Forward Pierre Engvall (ankle) continues to work out on his own and is nearing a return, but centre John Tavares (strained oblique muscle) is at least three weeks away.
TO RUSSIA WITH LOVE
There were some special guests missing from Wednesday night's 50th anniversary of Summit Series' conclusion at Scotiabank Arena.
Not Phil Esposito, who was grounded in Florida by Hurricane Ian, but surviving members of the Russian team.
What COVID-19 concerns could not prevent, Russia's invasion of Ukraine and the ensuing world sanctions did, as plans to have reunions on both sides of world fell apart.
"I'm very good friends with (Vladislav) Tretiak and (Alexander) Yakushev," Yvan Cournoyer lamented. "I'm going to miss them.
"We haven't spoken to them, especially lately. I had Tretiak to my house in Montreal about 20 years ago. Who could've believed then I'd have a Russian in my swimming pool?"
Peter Mahovlich said he was not about to try untangling Russian foreign policy.
"Look, we don't know why people go to war, but I wish peace across the globe. We're all in it together on this planet, but we draw borders and it's too bad.
"That said, we were hosted by the Russians for the 45th anniversary and it's too bad we could not reciprocate. But they have to change their thought process and hopefully they do."
As the Team Canada players posed with their iconic sunburst sweaters, Cournoyer quipped "we have to send this photo to (Vladimir) Putin."
WAVING THE FLAG
Serge Savard brought up a great point that the red and white maple leaf flag was barely seven years old at the time of the series and was not fully accepted from sea-to-sea.
"It was very controversial," reminded the defenceman, a big part of Team Canada. "But as soon as we put that flag in front of our jersey and won the series, you never heard another word about it.
"I think we did a lot to unite the country at that time and I'm very proud of that."
RING THE BELLEVILLE
The Leafs have an exhibition game Friday night against the Senators at the latter's farm team rink in Belleville. Many of the Marlies who are bound to be in the lineup will be familiar with CAA Arena after two years of COVID-induced scheduling kept Ottawa's and Montreal's teams close to home.
It's likely Ilya Samsonov gets a chunk of the game in net. Both he and fellow newcomer Matt Murray have stopped all 16 shots faced in their previous 40 minutes of action.
Sandin signs, but Leafs defence in state of flux

Robertson stays in Leaf job hunt
LOOSE LEAFS
There are four University of Notre Dame players at Leafs camp: Forwards Alex Steeves, Max Ellis, Graham Slaggert and defenceman Matthew Hellickson. Steeves. Slaggert and Ellis made up three of the school's top five scorers in 2020-21 … Swede Calle Jarnkrok prefers his last name pronounced 'Yarn-Croak' … Joe Bowen's son, David, is following his play-by-play career path, calling games for the OHL Sudbury Wolves, where Joe started his career. Is the 22-year-old allowed to slip in a 'Holy Mackinaw!'? "Only if he pays me $25," insists Joe. "It's copyrighted. But he'll find his own (signature call)." … Jimmy Holmstrom is entering his 36th season as Leafs organist at Scotiabank Arena, dating back to the Gardens and Harold Ballard, who regularly rang the direct line to the loft to complain about Holmstrom's playlist. "I got so scared," Holmstrom recalled, "until (assistant GM) Gord Stellick told me 'just don't answer the phone.'"