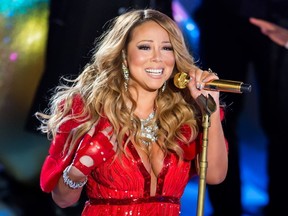 Singer Mariah Carey.

Photo by Getty Images / Files

/

Bang Showbiz
Reviews and recommendations are unbiased and products are independently selected. Postmedia may earn an affiliate commission from purchases made through links on this page.
Mariah Carey wants her kids to have "everything" after her own "messed up" childhood.
The 52-year-old pop star – whose track All I Want For Christmas Is You has gone on to become the best-selling Christmas single by a female artist since its 1994 release – is mother to 11-year-old twins Moroccan and Monroe with ex-husband Nick Cannon and explained that the festive time of year just makes her "happy" after enduring such a life "transformation."
As the Canadian national soccer teams head to their respective FIFA World Cups, Derek Van Diest is on the scene to cover all the action. Expect expert insights and analysis in your inbox daily throughout the tournaments, and weekly on Thursdays for the rest of the season.
By clicking on the sign up button you consent to receive the above newsletter from Postmedia Network Inc. You may unsubscribe any time by clicking on the unsubscribe link at the bottom of our emails. Postmedia Network Inc. | 365 Bloor Street East, Toronto, Ontario, M4W 3L4 | 416-383-2300
Thanks for signing up!
A welcome email is on its way. If you don't see it, please check your junk folder.
The next issue of Corner Kicks with Derek Van Diest will soon be in your inbox.
"Darling, look, I know a lot of the time people are like, 'Oh, yay! Look at her! She's, like, so festive and such a Christmas girl', or whatever," she told W Magazine.
"But, really, Christmas makes me happy. People think I had this princess-style life or whatever, a kind of fairy-tale existence where I just emerged, like, 'Here I am!' And that is not what it is. I doubt you have enough time to write about all that, so we won't go into it.
"But when you grow up with a messed-up life and then you're able to have this transformation where you can make your life what you want it to be? That is joy for me. That's why I want my kids to have everything they can have. I want them to be able to understand that they can be anything they want to be."
The Always Be My Baby hitmaker – who is thought to earn an estimated $2.6 million in royalties from her Christmas song every year – went on to add that she "loves" being able to give extravagant gifts because it is something she was not able to do as a child.
"[The twins] make a lot of the stuff that they give to me. Wait, hold on; I think the tooth fairy forgot to come last night. But she's very generous, the tooth fairy, so I think they have enough saved up and accumulated that they could actually buy me something this year, which would be amazing. I love giving them gifts, because the act of opening up a ton of presents is something I wasn't able to do as a child."