Burnaby crooner is back with his 9th top-10 album and 11-city Canadian tour.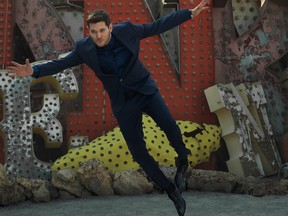 Michael Buble released his 11th album in March, named Higher.

Photo by Warner Music

/

jpg
Reviews and recommendations are unbiased and products are independently selected. Postmedia may earn an affiliate commission from purchases made through links on this page.
Michael Bublé Higher Tour
Start your day with a roundup of B.C.-focused news and opinion delivered straight to your inbox at 7 a.m., Monday to Friday.
By clicking on the sign up button you consent to receive the above newsletter from Postmedia Network Inc. You may unsubscribe any time by clicking on the unsubscribe link at the bottom of our emails. Postmedia Network Inc. | 365 Bloor Street East, Toronto, Ontario, M4W 3L4 | 416-383-2300
Thanks for signing up!
A welcome email is on its way. If you don't see it, please check your junk folder.
The next issue of Sunrise presented by Vancouver Sun will soon be in your inbox.
Where: Rogers Arena
Tickets/info: livenation.com
Released on March 25, Higher is the 11th album from singer Michael Bublé.
In what now seems normal for the local star, the 13-track record topped global charts. It is his fifth release to hit top spot on the U.K. Albums Chart, his ninth to take second spot on Australia's ARIA Top Album Chart, and on down the line. At home, where the leading lights of rock and pop regularly fail to receive the kind of love that comes from abroad, the record hit No. 3 on the Canadian Billboard chart. Folks love this fella.
And why not?
In a world where tragic consequences for a career are only an ill-timed TikTok away, the continuously fresh-faced, 47-year-old crooner appears teflon.
Tackling the kind of tough battles such as eldest son Noah's 2016 liver cancer diagnosis with maturity and poise, he and Argentinian wife Luisana Lipilato were up front and real about the situation. They don't come across as invisible celebrities. They seem like a fairly regular family, albeit one with a pretty incredible home.
Whether halting a U.K. gig to request aid for an audience member in medical distress, or telling risqué jokes that probably still make his managers grind their teeth, Bublé is little changed from his breakout Babalu residency days in so many ways. Still another Italian-Canadian bro from Burnaby with a penchant for working with some of the biggest names in the business making major bank.
In what has now become formula for the artist, Higher mixes straight-ahead takes on time-tested classics from Bob Russell and Duke Ellington's Don't Get Around Much Anymore, and Eric Maschwitz and Manning Sherwin's A Nightingale Sang in Berkeley Square, to fairly obvious duets such as Crazy with Willie Nelson. These types of tunes typically cover the "vintage" selections on any of his recordings, certain to be both familiar and appealing to his older fans.
Then there are the next-tier tunes, such as Paul McCartney's My Valentine or Bob Dylan's Make You Feel My Love. More recent, but proven hits, these tracks are equally omnipresent in pop. To date, the Dylan side has been treated to versions by everyone from Adele and Pink to Kelly Clarkson and Garth Brooks. With strings to make Nelson Riddle nod in approval and a groove that would have fit perfectly in a '70s era variety show, Bublé leans into the lyrics with his characteristic verve.
Where things get interesting is in his own songs. As Bublé's career continues, there are more and more examples of original songs that stack up as the singer's best. His concert setlist just isn't complete anymore without 2005's Home, 2007's Lost, or 2009's Haven't Met You Yet. And Higher has a quartet of originals that are likely to find their way into his shows from now on as well.
Of these, I'll Never Not Love You is a surefire winner. With its plaintive plea that "No matter what happens / I'll never not love you" the Bublé and Michael Pollack track was produced by Peterborough, Ont. ace Greg Wells. With a resume that boasts everyone from Taylor Swift and Dua Lipa to John Legend and Kid Cudi, he puts a contemporary pop sheen on the song that has crossover potential across a multitude of radio formats. Wells' hand is present on all of the originals and it's a perfect fit.
Baby I'll Wait boasts a rousing modern doo-wop style chorus while Higher is almost jarring in its pounding pop/R&B presentation. This is one of the first songs in Bublé's catalogue that presents some intriguing possibilities for an extended remix. Those who attend his coming tour can expect an interesting arrangement for the song in concert, as Bublé usually has both a killer band as well as a full string section and veteran backing vocal groups. At this stage, Bublé could release a greatest hits package of only his co-written collaborations that would be huge.
One of the surprises that may appear in the show is the cover of Olivia Rodrigo's Drivers License.
The singer's recording of the global hit with the BBC Concert Orchestra in the Radio 2 Piano Room is a perfect example of his ability to adapt a song that shouldn't work for him to sound like his own. Rather than hone in on the teen angst of the original, this take dives into the broken-hearted melancholy of looking back at someone who lied about love in the past. His whispered delivery of the line, "Yeah, you said forever, now I drive alone past your street" packs all the poignancy of an adult reminiscing about the past's painful memories.
It's that kind of style which translates into massive success, and this star is still in fine form.
sderdeyn@postmedia.com
twitter.com/stuartderdeyn