With a set of monumental municipal challenges and nearly half of the council seats lacking an incumbent, women are jumping over the many hurdles they face in the political arena to make their voices heard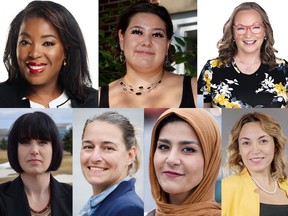 With a set of monumental municipal challenges and nearly half of the council seats lacking an incumbent, women are jumping over the many hurdles they face in the political arena to make their voices heard.
ott web bars 272805021
Exiting her first-ever all-candidates debate, it took a minute for Zainab Alsalihiy, one of four candidates running in the Riverside South-Findlay Creek ward, to see her friend Stéphanie Plante waiting outside the TV studio.
The former colleagues, now fellow first-time candidates in Ottawa's 2022 municipal election, had spoken over the phone not long before the event, with Plante, who is running in Rideau-Vanier, sharing some tips from her own debate experience.
Sign up to receive daily headline news from Ottawa Citizen, a division of Postmedia Network Inc.
By clicking on the sign up button you consent to receive the above newsletter from Postmedia Network Inc. You may unsubscribe any time by clicking on the unsubscribe link at the bottom of our emails. Postmedia Network Inc. | 365 Bloor Street East, Toronto, Ontario, M4W 3L4 | 416-383-2300
Thanks for signing up!
A welcome email is on its way. If you don't see it, please check your junk folder.
The next issue of Ottawa Citizen Headline News will soon be in your inbox.
Plante hadn't told Alsalihiy she was coming to the event, not wanting to add to her friend's nerves, and stayed out of sight until it was over.
The moment Plante hit Alsalihiy's sightline was captured on video: Eyes wide, with a thrilled yell of "oh my god!" the surprise reunion descends into hugs and delighted laughter.
"You did so good!" Plante tells Alsalihiy, who confesses how nervous she was. "I know, I can tell, it's okay!" Plante assures her.
It's support like this, which she's received from Plante and a few other women running this election, as well as the family and volunteers backing her campaign, that makes her push even harder, said Alsalihiy, a 39-year-old federal public servant and single mom.
"It's not (that) I don't want to disappoint these people because they're looking up to me or they're there for me. It just makes me feel so much stronger."
Alsalihiy and Plante are two of 37 women running for Ottawa city councillor jobs this election, a cohort that's grown in number and as a share of the candidate field compared to the municipal election in 2018.
Four years ago, 27 women contested council seats, accounting for 27 per cent of candidates (not including the mayor's race), according to an analysis by Capital Current, a publication out of Carleton University's journalism program. The proportion of women running in this year's council races is 35 per cent.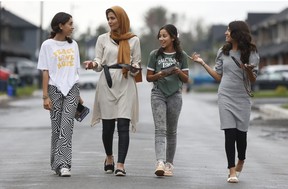 Zainab Alsalihiy (second to the left) campaigns in the Riverside South-Findlay Creek ward along with Fatima Zaidan, Mariam Zein and Aya Kalkas. Tony Caldwell/Postmedia

Photo by Tony Caldwell

/

Postmedia
Those familiar with the obstacles women face in running for a seat at the council table say it's no surprise that the race still isn't representative — women account for more than 50 per cent of Ottawa's population. There's room for progress on issues such as equality in the home and workplace, restrictive gender stereotypes and political spaces that can be toxic and unsafe, particularly for women and minorities.
But this election will be a transformative one at city hall, with nearly half of the council seats lacking an incumbent candidate and a set of monumental municipal challenges to deal with, from housing, climate change and the opioid crisis to economic recovery from the pandemic and calls for policing reform. In this, experts see potential drivers behind the increased number of women running.
A jovial "absolutely not" was candidate Plante's response, when asked whether she would have entered the race if three-term councillor Mathieu Fleury had decided to run again for his seat in Rideau-Vanier. There are 10 candidates contesting this ward, an even split between men and women; in 2018, Fleury faced three male challengers.
A longtime ward resident, on unpaid leave for the campaign from her job on Parliament Hill, Plante said she would have instead continued to engage with her community in a volunteer capacity, working with the councillor rather than challenging him for his post.
"I just do think when you're that popular and you've been elected, re-elected that many times, like it's easier to sort of align yourself with someone to get things done than it is to go up against them," said Plante.
Incumbents have "an incredible advantage" in municipal politics, Erin Tolley, Canada research chair in gender, race and inclusive politics at Carleton University, said. In the absence of political parties at the city level, candidates are running on the basis of their name and personal brand and defeating someone in that situation is typically a major upset to the expected outcome at the polls.
"When you have incumbents who are running again and again, that really closes off competition to everyone, but particularly to people who are already underrepresented in office," said Tolley. "If you already feel that … politics is not a place where you are welcomed, you are not going to pick a worst-case scenario in which to run. You are not going to try to unseat a longtime incumbent."
A change in personal circumstances also made the timing right for Plante to take a shot at political office this election.
Her son was turning 12, whereas before "he just would have needed me around a lot more," said Plante.
She and her husband also made arrangements that he would scale back from work to handle more of the childcare while she campaigns.
Four years ago, Plante was unmarried, her son was too young to be alone for any period of time and it's not clear that she could have included childcare as a campaign expense.
It's a question she investigated for a female friend thinking of running in 2018, and again for herself this election, and there was no clarity on the city's election website or from Plante's reading of the provincial legislation.
When she asked the city's elections office, she was told to consult an auditor or accountant.
Municipal elections manager Michèle Rochette told this newspaper that "staff are not in a position to interpret the legislation or provide advice on any campaign-related matters," as provincial legislation sets out the rules for the administration of municipal elections.
Plante sees that kind of uncertainty as a problem for parents thinking about running for political office, and women in particular.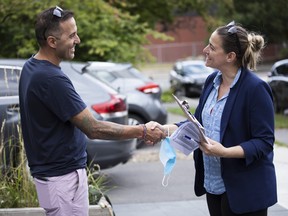 Rideau-Vanier council candidate Stéphanie Plante speaks with a ward resident as she campaigns. Errol McGihon/Postmedia

Photo by ERROL MCGIHON

/

ERROL MCGIHON
A 2018 Abacus Data study that included two Ottawa-based focus groups found that family and child obligations were the biggest barriers to political involvement for women in the focus group of those not participating in politics but involved in their community.
"The perceived disruption to their family life (which many say they already struggle to balance with their career) was too much of a barrier and would need to be addressed before they could even consider other barriers or helpful resources," the study observed.
"For those in the group of women that were politically involved, they acknowledged that without the support of their partner they would not have been as involved."
Yvette Ashiri, a public servant, community organizer and mother of two running for the Orléans South-Navan council seat, said the timing of the election, fixed under provincial law for the fourth Monday in October, means a lot of multitasking with the campaign running through the back-to-school season. And in a municipal election, you don't have a political party helping with volunteers and fundraising. It's on you as a candidate to handle that, she noted.
"If I didn't know why I'm doing it and I (didn't) have that determination, I would just say, 'Okay, that's it, I'm done,'" said Ashiri, who placed second in the 2020 byelection won by Catherine Kitts, now the incumbent she is challenging.
Speaking about her motivation to run again, Ashiri said she sees this as a "crucial election," with Mayor Jim Watson and many sitting city councillors departing municipal politics.
"There is a great potential to have a brand new council," said Ashiri. She's lived in Orléans for over a decade and said residents feel a disconnect between their needs and what the city is providing. She'd like to bring a fresh perspective.
But there remain very real disincentives for people who would bring those perspectives, including the harassment and sexualization of women in politics.
In Kanata North, Christine Moulaison has learned that her desire to be a strong voice at the council table has meant pushing past threats. After becoming a candidate, she said a man called and threatened to "dox" (release personal information about) her and her family.
A mom of four, longtime co-chair of the Ottawa-Carleton Assembly of School Councils, and part-time retail employee, Moulaison said her employer already budgeted for extra security at her workplace if she came to need it and she established a safety plan with her children's schools. That threats are already part of her political experience is frightening, said Moulaison, but she's not going to let it stop her.
"I feel that what I could do is more powerful than anything they could do. But at the same time, the fact that that's always in the back of my mind now is sort of frustrating and sad at the same time," she said.
Valerie Stam, operations director at the City of All Women Initiative (CAWI), said the harassment and verbal abuse directed at women and non-binary people in politics needs more public discussion.
And while some high-profile examples make headlines, such as the recent accosting of Deputy Prime Minister Chrystia Freeland by a man in Alberta, or the reported lewd and inappropriate behaviour towards female employees and job interviewees by Ottawa city councillor Rick Chiarelli, "there really needs to be more accountability in politics for behaviours that are unacceptable and that women disproportionately face," said Stam.
While toxicity is part of the political experience for many, women running for office this election also reported finding support and encouragement, sometimes in places they didn't expect to.
Riverside South-Findlay Creek's Alsalihiy has exchanged flyers and gone door-knocking with Maria Khan, a school board trustee candidate she met during the campaign. She found an ally in competitor Em McLellan, the other woman running in her ward. And she's got her sisters, other mothers and a group of young women in high school volunteering their time to support her. Her ex-husband is also helping out, said Alsalihiy, "and he's just looking at me, he's like, 'This is so you Zainab … you have all these women around you.'"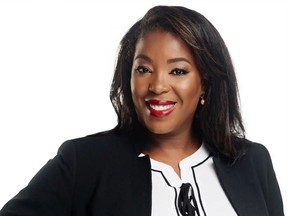 Yvette Ashiri, running in Orléans South-Navan, said she's learned a lot by running for office and is encouraging more women to get involved in politics. Supplied photo
Her decision to jump into the political arena has turned out to be a life-changing one, said Alsalihiy. In just a few weeks on the campaign trail, she learned things she hadn't in 20 years, and she's heard from others that she's inspiring them.
"Do it," is her advice to women who want to go into politics.
"Not just for the win, not for just getting the seat, but do it because you can make a difference in somebody's life … Somebody is watching you, even if it's one person. Put yourself out there. Show our youth, especially our girls, that nothing can stop you."
Of women who Abacus Data surveyed for their 2018 report, only eight per cent felt that being involved in politics would connect them to a supportive network. But a focus group of women in politics presented a different reality: "one of the biggest benefits they spoke to was the network, friendships and social aspects of politics that incentivized them to stay around."
While she's the only female candidate in the new riding of Barrhaven East, connection with other women running is something Kathleen Caught has embraced on the campaign trail.
She's chatted with school board trustees about an idea she proposed to establish greenhouses in community housing neighbourhoods and high schools, and appeared on one of the Instagram Live videos that Plante has hosted to dialogue with other candidates. Plante, for her part, said she's open to chatting with candidates of any gender in her videos — she's just found women have been more likely to say yes.
For Caught, it reflects how she'd like to see council function: "people collaborating, working together."
The grandmother, mother and retired financial consultant cited last winter's Freedom Convoy protest as a major motivator behind her decision to run. She worried about the wellbeing of those Ottawa residents who felt frightened and that they had to fend for themselves during the occupation, and experience was unsettling for her, she said – "just sitting back and watching it and not being able to help in any way."
She also has two Indigenous grandchildren, and after the residential school experience returned to the headlines in a major way in the summer of 2021 with the discovery of unmarked graves, she began exploring what more she could do to make a difference for them.
The massive, important issues that society is grappling with, from racism and reconciliation to the housing and environmental crises, may be another factor driving more women to step into the political arena.
Tolley, of Carleton University, does see a gendered difference when it comes to people's motivations for running for office.
"Men will often talk about … that politics is a calling, that they'd like to make a contribution to public life. Women will often talk in terms of a problem that they feel needs to be solved and that the people in office aren't solving it," she said.
Of those councillors who currently represent the city's 23 wards, seven are women and one, Catherine McKenney, identifies as non-binary, leaving men holding 65 per cent of the seats around the table in addition to Watson as mayor.
In having a council with a gender breakdown that's out of whack with that of its municipality, Ottawa's no outlier. A 2020 analysis by the Toronto Star found that only 53 of Canada's 441 largest municipalities (or 12 per cent) have councils where women equal or outnumber men.
As for why it matters that elected institutions broadly reflect the population they serve, Tolley said it leads to better and more legitimate public policy in the eyes of the electorate.
"When you have people with a narrow and homogeneous set of life experiences making decisions, they're going to overlook problems that are deep and embedded." It also risks leaving citizens feeling their elected representatives don't understand and don't speak for them, she said.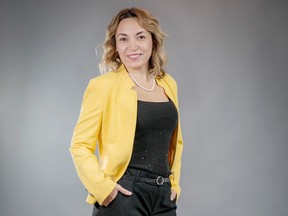 Rouba Fattal said she watched numerous council meetings and got better familiar with city finances in preparation for her run for council this year. Supplied photo

Photo by MICHAEL BRIN

/

ott web bars 272741851
Kanata South candidate Rouba Fattal has been thinking about running for office for years. She was asked to run four years ago, but said in addition to the fact that her children were young, she felt she needed to better understand the community's needs and sharpen her skills to represent them.
In addition to her day job as a senior economist with the federal government and a roster of volunteer work, Fattal started following a lot of council meetings in the last term, watching them on video at night before falling asleep, and getting acquainted with the municipal budget and other major files at city hall.
But personal experience has also informed at least one of her policy positions. As a working mother of young children whose long LRT-era commute left her feeling exhausted and guilty, pandemic-era remote work brought relief – and she's heard the same from other federal public servants in her ward.
She'd like to advocate for their continued ability to work from home, or to at least bring back an express bus until the LRT is working seamlessly. While the current mayor has urged the feds to bring workers back to the office to support downtown businesses, and Fattal said she understands that line of thinking, she believes there are other ways to revitalize the city's core. One possibility she suggested is the residential conversion of some government buildings.
"Instead of just seeing one solution to the business issue, which is bringing the public servants back to downtown, I'm sure there are other solutions that we can look at.
Only four of the city's 24 wards don't have any women running, down from nine in 2018. When it comes to the city's highest office, the slate is also less overwhelmingly male than it was four years ago. Still, parity lags even further behind in the candidacy for the top municipal job.
Not a single woman ran for mayor in 2018. This time, there's Celine Debassige, a cisgender woman (which means her gender identity matches her birth sex), alongside McKenney, who identifies as non-binary, and 12 men — the latter accounting for 86 per cent of the mayoral candidate field.
A study of mayoral elections in Canada's 100 largest cities between 2006 and 2017 concluded that just 16 per cent of candidates were women. The research also found that the presence of a female incumbent was related to higher numbers of women running for the position. In Ottawa, a woman hasn't occupied the mayor's office since before amalgamation, when Jacquelin Holzman held the position from 1991 to 1997.
The role model effect is another reason that representation around the council table is important, said Nasha Brownridge, chair of the National Capital Region chapter of Equal Voice, an organization dedicated to getting more women elected to political office in Canada.
"The more you see yourself reflected in your government, the more likely you're going to want to be a part of it," said Brownridge. While there are exceptions, "when it's a bunch of people who don't look like you, don't act like you, don't have your values, beliefs, otherwise – you are less likely to want to take part."
Debassige, 22, said she truly believes Ottawa deserves better than its reality today, and she wanted to show fellow activists who've been fighting for this some recognition and hope by joining the mayoral race. But representation, as an Indigenous woman, was also part of her motivation.
"Even if I don't win, if some little girl like my sister or any other Indigenous youth sees that I'm doing this and (has) that build courage in them, that's why I'm doing it."
Pellerin: Public safety — we're not asking the right questions in Ottawa's municipal election

Briones: Small-business owners must pay attention to Ottawa's municipal election