'I was sick of what I was reading', says Sgt. Justintom, a spokesman for the New Westminster Police Department.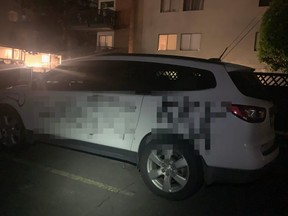 New Westminster police are polluted by racists This photo of the vehicle was released Graffiti
jpg
New Westminster police have racist graffiti 2 I'm looking for the suspect who caused two separate cases.
The first incident (a racist message being scratched by a vehicle) is believed to have occurred overnight on June 5. Police say the vehicle was parked in the area of ​​South Dyke Road in the Queensboro district.
The second incident occurred around midnight on Friday. A resident called police and said he had witnessed two suspects spraying racist graffiti on a building on 400 blocks of East Columbia Street.
When authorities arrived, no one was found to match the suspect's description. It was then that police discovered that the five vehicles were also spray-painted with graffiti. Police have not disclosed the content of the racist message.
"When I saw this graffiti, I was fed up with what I was reading," Sgt said. Said. Justin Tom, a New Westminster police spokesman, said in a statement Thursday.
"The racist case has been taken seriously by the New Westminster police. This investigation is underway and information we have not yet spoken to officers. Anyone who has a is asking us to call us. "
The New Westminster Police Department has police officers seconded to the state's Hate Climb Unit, and these cases It is shared with this unit, Tom said.
The suspects in the June 17 case were described by police as white men aged 20 to 30 years, each about 5'7 inches tall.
One of the suspects wore a black hooded sweatshirt and the other wore a red hooded sweatshirt.
ticrawford@postmedia.com
To receive daily headline news from Vancouver Sun Sign up for, a division of Postmedia Network Inc.
By clicking the sign up button, you agree to receive the above newsletter from Postmedia Network Inc. You can unsubscribe at any time by clicking the unsubscribe link at the bottom. Our email. Postmedia Network Inc. | 365 Bloor Street East, Toronto, Ontario, M4W 3L4 | 416-383-2300
Thank you for registering.
A welcome email has been sent. If you don't see it, check your junk folder.
The next issue of Vancouver Sun Headline News will arrive in your inbox shortly.