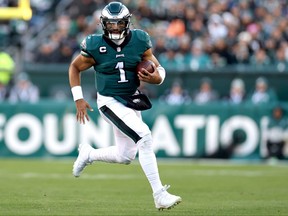 Jalen Hurts and the Philadelphia Eagles are rolling and should have no trouble beating the Giants on Sunday.

Photo by Scott Taetsch

/

Getty Images
BALTIMORE RAVENS (8-4) AT PITTSBURGH STEELERS (5-7)
LINE: Pittsburgh -2.5
CHEWABLE: You might already know about the greatest, spine-tingling tradition in the NFL, but to those who don't — for almost 21 years (since a Jan. 5, 2002 playoff game against Cleveland) the Steelers have pumped up their home crowd and their defence by blasting the 1978 Styx classic "Renegade" over the stadium loud speakers, usually when the team needs a big second half STOP. Fans wave their yellow towels and scream along, and the Steelers respond. Now they need another song, for a big second half GO, or CONTINUE GOING. After a 2-6 start, Pittsburgh has won three of its last four an d now appears intent on extending Mike Tomlin's run of seasons with a .500 record or better to 16 in a row. In the past four games rookie QB Kenny Pickett has not thrown an interception and the Steelers have three wins. The turnaround also coincides with the return of their most important player. They went 1-6 with T.J. Watt sidelined by a pectoral injury, but since his return the pass rush has gone from 30th to top six. Watt now has a ribs injury that kept him from practice Thursday and limited throughout the week, so the Steelers might have to do without him this week. If they had a CONTINUE GOING song, they could cue it now … As far as fall-back plans go, Tyler Huntley is not a bad one for injured Baltimore QB Lamar Jackson. He completed 27-of-32 passes against a good Denver defence last week, and added 10 carries for 41 yards which is actually below his yards per carry average (5.34 yards) over 67 career runs. But the Ravens first-place standing has been built on a cream puff schedule. They needed a two-yard TD run and the extra point with 28 seconds left to beat the Broncos 10-9 last week, and since a 3-3 start they have gone 5-1 against teams with a combined record of 26-47. With three inter-division games among the final left five on their schedule, the Steelers can't afford any loss right now. But for them to lose in desperation mode, at home, to a backup quarterback and against a team that they have defeated the last four times meetings, with Huntley unable to hear himself think through the playing of Renegade in the fourth quarter … it seems highly unlikely.
TAKING: PITTSBURGH -2.5
SCORE (O/U 37): Steelers 21, Ravens 15
PHILADELPHIA EAGLES (11-1) AT NEW YORK GIANTS (7-4-1)
LINE: Philadelphia -7
CHEWABLE: How do you stop the Eagles these days, anyway? In last week's 35-10 win over the Titans, nine receivers combined to give them 391 yards, 380 of which came on Jalen Hurts passes. The week before, in a 40-33 victory over the Packers, they had four ball carries combine for 363 rushing yards, 157 of which came from Hurts on 17 hauls … Meanwhile, the Eagles have the second-ranked defence in yards allowed, with a No. 1 ranking against the pass. That's not good news for Daniel "Danny Dimes" Jones who, with mostly a shoddy collection of receivers, has the Giants pass game ranked 28th … While the Giants best bet will be Saquon Barkley against the Eagles 17th-ranked run defence, expect Eagles to go back to pounding the pigskin against a Giants team ranked 26th against the run … G-Men need this one for their playoff hopes, but they are 1-3-1 since Oct. 23 and the win was against the cellar-dwelling Texans, who they squeaked past in a 24-18 final because of 14 third quarter points.
TAKING: PHILADELPHIA -7
SCORE (O/U 45.5): Eagles 27, Giants 17
Don Brennan's daily hit on the world of sports betting. Whether you're new to sports gambling or an experienced wagerer, this newsletter offers trustworthy insights into the odds game. 19+. Please gamble responsibly.
By clicking on the sign up button you consent to receive the above newsletter from Postmedia Network Inc. You may unsubscribe any time by clicking on the unsubscribe link at the bottom of our emails. Postmedia Network Inc. | 365 Bloor Street East, Toronto, Ontario, M4W 3L4 | 416-383-2300
Thanks for signing up!
A welcome email is on its way. If you don't see it, please check your junk folder.
The next issue of Closing Lines will soon be in your inbox.
KANSAS CITY CHIEFS (9-3) AT DENVER BRONCOS (3-9)
LINE: Kansas City -9.5
CHEWABLE: Forget the fact the Chiefs have won the last 13 times they've played Denver, I might be on board with the Broncos putting up a fight against the top team in their division if Kansas City wasn't coming off a 27-24 loss the Bengals. The Chiefs haven't dropped two in a row since Weeks 2-3 last season, and Patrick Mahomes is 9-0 in his career against Denver as well as 14-0 in AFC road games … The Broncos have the No. 3 ranked defence in the league, but with an offence that is averaging a league-low 13.8 points per game, they'll have no chance keeping up with the Chiefs. This best bet is the best, best bet.
TAKING: KANSAS CITY -9.5
SCORE (O/U 43): Chiefs 30, Broncos 10
And the rest …
MINNESOTA VIKINGS (10-2) AT DETROIT LIONS (5-7)
LINE: Detroit -2.5
CHEWABLE: Why are the Lions favoured when they are five games behind the first-place Vikings in the NFC North? Because they've steadily improved and Vikings have been fortunate in a few. They've also been opportunistic. When the teams met in Week 3 at U.S. Bank Stadium, the Lions were up 24-14 in the fourth quarter before they lost WR Amon-Ra St. Brown and RB D'Andre Swift to injuries. When the visitors were unable to move the ball like they were, Minnesota scored 14 unanswered points and won by four .. Detroit's run defence is ranked 28th but has silenced some top RBs in recent weeks. Dalvin Cook's number of 100-yard games this season should stay at two … The Lions have averaged 31.7 points in their last four games and have won four of their last five. They'll be able to keep that trend going against a Vikings defence that is 31st in yards allowed and 32nd in passing yards allowed … History suggests a close score wouldn't bode well for Detroit. In games decided by eight points or less, the Vikings are 9-0 and the Lions are 2-5. But while Minnesota can lock up the division with a win, has essentially Dan Campbell's Lions probably think they can sneak into a wild-card spot. I'd actually be surprised if they lost this one.
TAKING: DETROIT -2.5
SCORE (O/U 53.5): Lions 30, Vikings 27
NEW YORK JETS (7-5) AT BUFFALO BILLS (9-3)
LINE: Buffalo -9.5
CHEWABLE: The Bills might forget what game-day traffic is like on the way to Highmark Stadium, as they haven't had a home game since an OT loss to the Vikings on Nov. 13. That was just after their 20-17 setback at the hands of the Jets in East Rutherford, giving the Bills their only losing streak of the season … The Bills went from fifth seed in the AFC to first with last week's relatively easy 24-10 in New England, while the Jets somehow lost 27-22 in Minnesota while out-gaining the Vikings by 199 yards … Mike White is now 2-for-2 in plus-300 yard passing games this season after throwing for 369 (along with two picks) versus Minny. In his third start last year, White was picked off four times in a 45-17 loss to Buffalo … White should be able to throw with success against the Bills, who have the 17th ranked pass defence and will now be without edge rusher Von Miller … Allen will avenge the previous loss to Jets, but Gang Green's fourth ranked defence will keep it close.
TAKING: NEW YORK +9.5
SCORE (O/U 44): Bills 24, Jets 20
CLEVELAND BROWNS (5-7) AT CINCINNATI BENGALS (8-4)
LINE: Cincinnati -6
CHEWABLE: The Bengals have won four straight since getting clobbered 32-13 in Cleveland. Joe Burrow is 0-for-4 in his career against the Browns. Burrow has also thrown more interceptions (four) against the Ohio rivals than any other team except Steelers (eight). Expect DeShaun Watson to be better than he was in his Browns debut last week, but Bengals will keep marching and avenge the earlier loss to Cleveland. By four.
TAKING: CLEVELAND +6
SCORE (O/U 47): Bengals 30, Browns 26
JACKSONVILLE JAGUARS (4-8) AT TENNESSEE TITANS (7-5):
LINE: Tennessee -4
CHEWABLE: Can firing the GM during the season make a difference? We are led to believe Titans canned Jon Robinson this week because their offence is going nowhere fast. Helping change that will be a visit from the Jags, who gave up 40 points to the Lions last week and have not allowed fewer than 20 since Oct. 9 … Did I mention that Detroit scored on its first eight possessions, converted 8-of-12 third downs and never had to punt against the Jags? … Look for Derrick Henry to get it going again as the Titans extend their winning streak over the Jags to six and win for the 10th time in 11 meetings.
TAKING: TENNESSEE -4
SCORE (O/U 41.5): Titans 28, Jaguars 21
HOUSTON TEXANS (1-10-1) AT DALLAS COWBOYS (9-3)
LINE: Dallas -16
CHEWABLE: What is this, a college game? I wouldn't give up this many points in most circumstances, but Cowboys are averaging 40.7 and 180 yards rushing during their current three-game winning streak, while the Texans have convincingly lost seven in a row and have the worst run defence in the league by a substantial margin … Dallas is hopeful of getting eight-time Pro Bowl OT Tyron Smith back from injured reserve … The Cowboys are 8-0 ATS in their eight December games … Davis Mills is back in as Houston QB. He threw 11 picks in the eight games leading to his benching. Trevon Diggs is his wringing this hands in anticipation.
TAKING: DALLAS -16
SCORE (O/U 45): Cowboys 40, Texans 16
CAROLINA PANTHERS (4-8) AT SEATTLE SEAHAWKS (7-5)
LINE: Seattle -3.5
CHEWABLE: Before their bye last week the Panthers, with Sam Darnold at quarterback, defeated Denver 23-10. If they can score more than three TDs against the Broncos they can surely put up at least that many against a Seahawks defence that surrendered more yards per game than any team except Minnesota and Detroit … Even with losing twice as many as they've won, the Panthers are just two games off the pace and still thinking playoffs in the pitiful NFC South … Seahawks RB Kenneth Walker (ankle) is unlikely to play, while Panthers RB D'Onta Foreman is expected back from a foot injury … I like Geno Smith and Seattle to keep on San Fran's heels by beating Carolina for the fourth time in a row, but not without a fight. Expect Panthers to cover the spread for the sixth time in their last seven games.
TAKING: CAROLINA +3.5
SCORE (O/U 43.5): Seahawks 30, Panthers 27
TAMPA BAY BUCCANEERS (6-6) AT SAN FRANCISCO 49ERS (8-4)
LINE: San Francisco -3.5
CHEWABLE: Tom Brady will be making his 329th NFL start against the team he grew up watching and cheering for about a half hour drive down the road from his home town of San Mateo, Calif. Brock Purdy, as the last pick of the 2022 NFL draft aka "Mr. Irrelevant" will be making his NFL first start. It might be the only edge Tampa has in this one … The Bucs have the eighth ranked defence overall, but their run defence is 18th and Purdy is sure to lean on Christian McCaffrey and Deebo Samuel coming out of the backfield … The Bucs have won three of their last four games, prompting a belief from casual observers they are making a late-season charge to the playoffs. But those four games have been against defensively shaky teams (Rams, Seahawks, Browns, Saints) and they've still averaged just 17.7 points. Now they face the Niners, who lead the NFL in total defence (with 283.0 yards allowed per game), rush defence (75.6 yards allowed per game) and fewest points allowed (15.8 per game). It does not figure to be a happy homecoming for the GOAT.
TAKING: SAN FRANCISCO -3.5
SCORE (O/U 37.5): Niners 24, Bucs 15
MIAMI DOLPHINS (8-4) AT LOS ANGLES CHARGERS (6-6)
LINE: Miami -3
CHEWABLE: How bad is the ankle injury that caused the Dolphins to pull Tua Tagovailoa in the fourth quarter against the Niners last week and had their star QB limited all week in practice this week? Won't keep him from playing, but he'll need to scamper around pretty good on if Miami is without OT Terron Armstead (pec) for a second straight week … Nonetheless, the Chargers 19th ranked pass defence will have little chance containing Tyreek Hill and Jaylen Waddle, who rank first and fifth in receiving yards … Chargers have won just two of their last five but all have been one-score games …The Dolphins are 10-4 ATS in the last 14 meetings … Initially had Chargers pulling off the upset, but there are just two many question marks around their banged-up offensive line.
TAKING: MIAMI -3
SCORE (O/U 52): Dolphins 34, Chargers 24
NEW ENGLAND PATRIOTS (6-6) AT ARIZONA CARDINALS (4-8)
LINE: New England -1.5
CHEWABLE: Normally I would not take the dysfunctional Cardinals offence against a Bill Belichick defence, but Belichick has had trouble with mobile quarterbacks and Kyler Murray will be running for Arizona's playoff life. Lose this one and the Cardinals can forget any chance of a wild-card spot — not that they deserve won after losing six of their last eight … Trends that favour Patriots: They are 12-2 ATS in their last 14 following a double-digit loss at home, and they are 4-1 ATS in their last five meetings with Cardinals. Sometimes trends are not enough. Mac Jones looked horrible against Buffalo last week and Patriots have the 22nd ranked rushing offence, averaged 68 ground yards over the last three games.
TAKING: ARIZONA +1.5
SCORE (O/U 44.5): Cardinals 21, Patriots 20
Thirty Thirties on Thursday — Week 14 edition

NFL playoff races heat up in Week 14