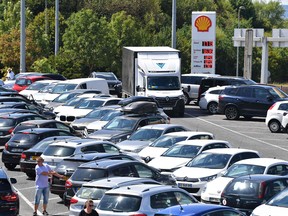 Aug 2022 6 Gas station in Berchem in the day, Luxembourg.

Photo by JOHN THYS

/

AFP via Getty Images
Elmira Aliakbari and Julio Mejia
Europe is suffering from an unprecedented energy crisis.
Household gas and electricity bills have skyrocketed, leading some countries to limit the use of heat and hot water.
While Putin's war is exacerbating the situation, Europeans can blame government policies for energy shortages and price hikes, and, ironically, for Russian natural gas. and the continent's dependence on oil imports.
How did this happen?
Over the past two decades, European climate policy has favored wind and solar power at the expense of nuclear power and fossil fuels. However, renewable energy could not meet Europe's electricity demand because it was not always available.
For example, the summer of 2021 saw less sunshine and less wind than expected, increasing demand for his backup power, natural gas. However, Europe's climate policy has cut domestic natural gas production and several her EU countries, including Ireland, Germany and France, have banned fracking.
As expected, increased demand for natural gas combined with lower domestic production led to a sharp increase in prices. In Europe, electricity prices have jumped dramatically compared to 2020. In Germany, Great Britain, Spain and France it jumped to around 200% and in Scandinavia to 470%. All before Russia invaded Ukraine.
Uncertainty increased in early 2022 as sanctions on Russian oil and gas began amidst the invasion. Again, Europeans have also found themselves suffering from significant price increases. For example, the average German household's annual natural gas bill has doubled from around €1,184 in April 2021 to around €2,787 by the end of 2022.
Rising carbon prices have also contributed to rising natural gas prices. The price of a European Union emissions allowance (i.e. a permit that entitles the owner to emit his tonne of carbon dioxide) has risen nearly 500% over the past decade. A recent study published by the Fraser Institute estimated that for every €1 increase in carbon prices, natural gas prices would rise by almost €2.
Europe's aggressive climate policy will increase fossil fuel prices and encourage adoption of renewable energy to reduce greenhouse gas (GHG) emissions. was intended. But as energy prices soared, Europe's energy vulnerabilities deepened, forcing the continent to restart old coal-fired power plants. This is a power source that emits 50% more GHGs than natural gas.
This is why Canada should be cautious before continuing to lead Europe. Ottawa's carbon tax is set to increase to $170 per tonne by 2030 (the EU carbon price is currently around $110 per tonne). The Trudeau administration has also capped oil and gas emissions and accelerated adoption of renewable energy sources to reach 90% of electricity generation by 2030.
Energy investors are watching. Capital spending in Canada's upstream oil and gas industry (essentially, exploration and production) plummeted from his $51 billion in 2015 to his $24 billion in 2021. A decrease in investment can lead to a decrease in energy production when demand increases.
Fossil fuel prices soared in Europe before the Russian invasion. By limiting the production and imports of reliable and affordable energy, policymakers threaten the continent's energy security, make life more difficult for millions of Europeans, and use coal to meet their energy needs. We restarted thermal power plants, which actually exacerbated GHG emissions. Canadian policy makers should heed Europe's cautionary tales.
Elmira Aliakbari and Julio Mejia are analysts at the Fraser Institute.
The latest headlines, stories, opinions and photos of the Toronto Sun from the newsroom to your inbox at noon. increase.
By clicking the subscribe button, you agree to receive the above newsletter from Postmedia Network Inc. You can unsubscribe at any time by clicking the unsubscribe link at the bottom of the email. Post Media Networks Inc. | 365 Bloor Street East, Toronto, Ontario, M4W 3L4 | 416-383-2300
Thank you for registering.
Sending welcome email. If you don't see it, please check your spam folder.
The next issue of Your Midday Sun will arrive in your mailbox shortly.