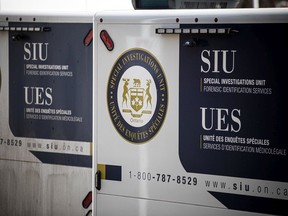 Special Investigations Unit.

Photo by Ashley Fraser

/

Postmedia
There are no reasonable grounds to believe that an Ottawa Police Service officer committed a criminal offence in connection with serious injuries sustained by a 41-year-old man who fell from an e-bike in August, the province's Special Investigations Unit said Wednesday.
Director Joseph Martino, head of the provincial police watchdog, did not find that the officer involved in the incident "transgressed the limits of care" in his dealings with the man, an SIU media release said.
Sign up to receive daily headline news from Ottawa Citizen, a division of Postmedia Network Inc.
By clicking on the sign up button you consent to receive the above newsletter from Postmedia Network Inc. You may unsubscribe any time by clicking on the unsubscribe link at the bottom of our emails. Postmedia Network Inc. | 365 Bloor Street East, Toronto, Ontario, M4W 3L4 | 416-383-2300
Thanks for signing up!
A welcome email is on its way. If you don't see it, please check your junk folder.
The next issue of Ottawa Citizen Headline News will soon be in your inbox.
In the early hours of Aug. 2, police officers were dispatched to the South Keys Shopping Centre on Bank Street following reports of trespassers committing theft in the area. An officer spotted a man who was believed to be involved, but the man attempted to flee on an e-bike, with the officer then pursuing him in his cruiser.
The man then fell from the e-bike and, after being arrested by officers, was transported to hospital by ambulance. He had fractured ribs and a broken collarbone.
"The file has been closed," the SIU release concluded.