Everyone has the right to protest, but threatening democratic institutions and the rule of law should not be tolerated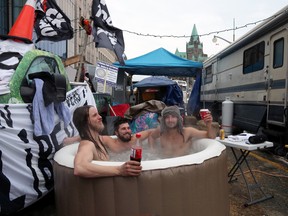 Protesters were at Wellington in front of the Capitol during a demonstration in Ottawa. Sitting on a hot tub on the street.

Photo: David Kawai

/

Bloomberg
The expected return problem of the so-called Freedom Convoy is your average It's not just the discomfort, noise and violence inherent in a typical siege. It is the damage done to the body that unites our society, starting with the rule of law and the integrity of the parliamentary system.
The rule of law means that the law applies equally to all. So, to give a random example, if it's illegal to sit half-naked in Wellington's hot tub in front of Congress, especially if you're drunk and disturbing peace, anyone who catches it throws it. With a clinking sound.
As we saw a few months ago, we weren't left alone to infiltrate peace. Now they feel they have the right to break the law. It undermines our common understanding of what the basic rules of cohabitation should be.
Our autonomy system is far from perfect. But if we all agree to live according to the same basic rules, we're okay. That's why most of us, even those who dislike it, speak in turn, vote, and accept the results. We no longer have autonomy when a small group rejects the election and decides to throw dignity and fair play under the track. We have the most unpleasant dominance.
Protests are one of the most valuable privileges of a democratic society. But in addition to occupying, intimidating, and treating by violence bystanders, deafening their ears and poisoning their air are not protesting.
Apparently, he plans to stay in Ottawa as long as it takes to resign the prime minister. why. It's ... not clear. So, obviously they don't like Justin Trudeau, and as far as I know, emotions are interrelated. Engaging in an illegal occupation to dismiss a disliked politician is not the way we do in a country other than the Banana Republic.
Unfortunately, some politicians seem to actually accept this institutional vandalism. Local Assembly member Pierre Poirievre believes that we can change our government system by running 10 million times to run for prime minister when this job is not on the ballot. , We enthusiastically support convoys. He is not the only Tory lawmaker to do so.
Poilievre says no one in his campaign talked to the organizers who are going to Parliament Hill on Canada Day. , He fully supports and encourages protests against government attacks. Our freedom.
It may be strange if the fleet actually respects the law, dignity, the rights of others, and the logic. I think it's safe to say that most of them are there because of the tub. It is not a constitutional turmoil in which voice idiots have them read Miranda's rights and claim that they have the right to protect the rights of the First Amendment. Maybe read the Canadian Constitution.
I was able to sit here all week and mock ignorance. But I'm too worried about the damage to our facility, not to mention violence, and I can't think of laughing.
Charlie Angus, Timmins-James Bay's NDP MP, recentlypublished inPolicy Magazineof politicians and a wide range of people. I posted an article to comment on safety. Belief in the Wakko Conspiracy among Canadians.
He cites Abacus Data polls showing that 44% of Canadians believe that "secret groups of elites dominate elections, recessions and wars." Almost 40% believe in the racist "white substitution theory". According to this, there are plans to replace "natively born Canadians" (ugh) with immigrants.
It's horrifying and painful, as is the image of the Nazis and the flaunting of flags near their convoys. Anti-Semitism lives in the corner of evil and stupidity, and if you allow that symbol near you, we draw the right conclusions.
Everyone has the right to protest the obligations of the mask, even after it has been lifted. Now, fill your boots. But threatening the foundations and institutions that keep us free and prosperous and democratic is vandalism and unacceptable.
Bridget Perlan is an Ottawa writer.
She should sign up to receive daily headline news from Ottawa Citizen, a division of Postmedia Network Inc. By clicking the
sign-up button, you agree to receive the above newsletter from Postmedia Network Inc. You can unsubscribe at any time by clicking the unsubscribe link at the bottom of the email. Postmedia Network Inc. | 365 Bloor Street East, Toronto, Ontario, M4W 3L4 | 416-383-2300
Thank you for registering.
A welcome email has been sent. If you don't see it, check your junk folder.
The next issue of Ottawa CitizenHeadlineNews will arrive in your inbox shortly.