The report identifies six boroughs that should be prioritized and notes 60 per cent of available land for new trees is private property.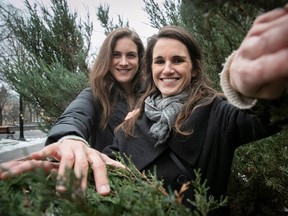 "The idea of planting the right trees, in the right places, becomes extremely important in the context of climate change," says Catherine Hallmich, left, from the David Suzuki Foundation, with Fanny Maure of the Montreal-based consulting firm Habitat.

Photo by Pierre Obendrauf

/

Montreal Gazette
The City of Montreal will likely need to increase its efforts to convince residents to plant trees on their property in order to meet its goal of adding half a million trees by 2030, a new study suggests.
At the same time, the study found, the city should focus on planting more than half of the new trees in six specific boroughs to make up for current disparities.
Sign up to receive daily headline news from the Montreal Gazette, a division of Postmedia Network Inc.
By clicking on the sign up button you consent to receive the above newsletter from Postmedia Network Inc. You may unsubscribe any time by clicking on the unsubscribe link at the bottom of our emails. Postmedia Network Inc. | 365 Bloor Street East, Toronto, Ontario, M4W 3L4 | 416-383-2300
Thanks for signing up!
A welcome email is on its way. If you don't see it, please check your junk folder.
The next issue of Montreal Gazette Headline News will soon be in your inbox.
Made public on Monday, the 49-page report was produced by the David Suzuki Foundation in collaboration with Montreal-based consulting firm Habitat.
It aims to guide the city in its tree-planting effort to address three main issues: adapting to climate change; creating a more resilient urban forest, meaning trees on the city's territory; and ensuring trees are equitably distributed across boroughs.
"It's very important to plant trees with a long-term vision," said Catherine Hallmich, head of science projects at the foundation. "And the idea of planting the right trees, in the right places, becomes extremely important in the context of climate change."
The city announced its plan to plant 500,000 new trees in its 2020-2030 Climate Plan, noting that priority would be given to areas susceptible to heat waves.
Building on that, the new study looked to understand Montreal's current tree canopy, identify the maximum space available for new trees, locate where the priority should be placed and select the right tree species to be planted.
Overall, it found that 60 per cent of the available land is located on private property and a third of suitable "non-mineralized" land — meaning grassy patches or lots, where it would be easier to plant trees — is located on residential land.
"Hence the importance of strategies, subsidies and programs to encourage planting on these lands," the study says.
In theory, the study says, there could be space for the city to add some 758,000 new trees on its territory. But, it notes, the approach used to calculate available space didn't consider factors like underground cables, electrical towers or fire hydrants.
Fanny Maure, scientific director at Habitat, said the goal wasn't to criticize the city or its current targets, but rather to stress the difference careful planning could make.
"Setting a goal of planting 500,000 trees is already really ambitious," Maure said. "We wanted to show that if it's done strategically — by considering socio-economic or ecological factors — the city could double or triple the benefits gained from the trees."
Research has detailed the benefits of having trees in cities, including reducing pollution, helping control flooding and improving residents' well-being or mental health, the study notes.
Faced with increasing heat waves, trees also play a crucial role in providing shade and countering heat islands. And yet, the study points to inequalities that have long existed between Montreal's boroughs when it comes to tree cover.
"We know trees aren't equitably distributed across the city's territory," said Hallmich, noting there are fewer trees in neighbourhoods that have lower household incomes or are more culturally diverse.
For instance, as of 2019, trees covered nearly half of the Île-Bizard–Ste-Geneviève borough. That figure is much lower in several other boroughs, including Anjou (11 per cent), St-Laurent (10 per cent) and St-Léonard (nine per cent).
Using different socio-economic and ecological factors, the study suggests the city plant 275,000 trees as a priority in Rivière-des-Prairies–Pointe-aux-Trembles, St-Laurent, Mercier–Hochelaga-Maisonneuve, Villeray–St-Michel–Parc-Extension, Ahuntsic-Cartierville and St-Léonard.
It also calls on Montreal to diversify the type of trees it plants in order to better face "climate hazards" such as heat waves, droughts or heavy rainfalls. At the moment, more than a third of Montreal's tree canopy consists of maple trees.
Ideally, said Hallmich, cities should aim for more diversity to avoid having too many trees that all share the same vulnerabilities, be it climatic stresses, diseases or insects.
In conclusion, the study notes that though the city's plan to plant half a million trees may seem like an expensive commitment, the benefits the trees "provide to society as a whole" will far outweigh the costs in the long run.
"Beyond the results and figures produced, this study illustrates the need to identify a planting strategy aimed at considering trees as infrastructures in their own right within cities," the study notes, "and to minimize their loss in the coming decades."
The City of Montreal did not respond to a request for comment by deadline on Monday.
jfeith@postmedia.com
twitter.com/jessefeith
Montreal's climate plan includes ban on non-electric cars downtown by 2030

Killer heat: Hotter, deadlier summers are baked into Montreal's future