Thursday, July 7: letters@ottawacitizen.com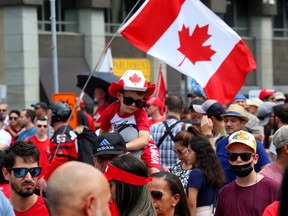 Residents and visitors celebrated Canada Day in the capital on July 1st.
Post Media
Thanks to the parents of Canada Day
This year's Otawa visitors and residents have made Canada Day possible thanks to their tireless efforts and dedication. Of our police and other civil servants. Again, we know that in order for us to be welcomed, we had to leave our family and friends and give up our Canadian Day celebration.
Thank you and your family for their dedication and sacrifice for the general public. All Canadians should concentrate on prioritizing the welfare of others over their welfare, just as you do every day and on very special occasions.
SuzAnneDoré, Otawa
Bravo to these graduates
Re:"Convoy" that all Otawan should support, July 2nd.
What a profound and beautiful article by Becky Linor that expresses the feelings that most of us share but couldn't express clearly. Young, motivated and grateful, thousands of people are adventuring to educate themselves to make a difference between their families and the whole world in all the turmoil, bitterness and useless protests that follow blindly. The beautiful world of people is there.
Let's support, support and pray for them today. Then their enthusiasm, dedication and enthusiasm for a successful and better life will be supported by all of us, especially the government. They lose hope and face disappointment.
Congratulations to all graduates of 2022.
Nona Narry, Orleans
Great article about great graduates
High Five Becky Linor, our new "convoy", In short, he congratulated, encouraged, and recognized the 2022 high school graduates for bringing much to Canada.
Sadly, some protesters do just that — always point out negative things and don't provide a positive or realistic solution.
I support these high school graduates.
Arlene MacDonald, Ottawa
Why give protesters so much space?
Otawa citizens' coverage of the Canada Day event in Otawa was irresponsible. It was Canada's day, the first official face-to-face celebration in the city since the launch of COVID, but the biggest photo on the front page is one of the protests. I'm desperately looking for a balanced report.
May Gabul, Ottawa
Why didn't the citizens celebrate with us?
It was a great feeling to go home from my friend's backyard after an afternoon golf on Canada day and meet the delicious scent of the barbecue next door. The Canadian flag is proudly waving on the lawn in the front yard. This beautiful and free country, and the endless sights and sounds of fireworks as the sun sets. The day was perfect, people were celebrating and the mood was vibrant.
So why did Otawa citizens choose to awaken us to the pictures of the few people who don't receive it? Why didn't Ottawa citizens celebrate with us?
Jeff St. Amour, Orleans
The again devastated Aberdeen Pavilion
Re: SSave Aberdeen: Lands Andrew Duffy's ardent article praising the efforts of Mayor Jim Watson and former councilor Peter Hume to save the down jewel Aberdeen Pavilion was very informative, but did not mention the city of Ottawa devastating the pavilion again. It means that.
The pavilion requires at least $ 6 million refurbishment due to 30 years of substantial maintenance. Does the city have the budget to maintain valuable assets?
Ken Harten, Otawa
To receive daily headline news from Otawa Citizen, a division of Postmedia Network Inc. Please sign up for. By clicking the
sign-up button, you agree to receive the above newsletter from Postmedia Network Inc. You can unsubscribe at any time by clicking the unsubscribe link at the bottom of the email. Postmedia Network Inc. | 365 Bloor Street East, Toronto, Ontario, M4W 3L4 | 416-383-2300
Thank you for registering.
A welcome email will be sent. If you don't see it, check your junk folder.
The next issue of Ottawa CitizenHeadlineNews will soon arrive in your inbox.