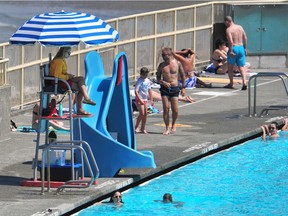 A lifeguard at Kits Pools shown here on Aug. 1, 2022.

Photo by NICK PROCAYLO

/

PNG
Vancouver's new parks board has directed staff to prepare an urgent report on preparations for outdoor water facilities for the summer 2023 season – after a messy 2022 summer for those facilities in the city.
According to a motion presented by Commissioner Laura Christensen, the park board's pools and spray parks encountered a number of issues this past summer – including delays in opening Kitsilano Pool due to damage from a Jan. 7 freak storm and king tide that also partly destroyed the Jericho pier and sections of the Stanley Park seawall.
Start your day with a roundup of B.C.-focused news and opinion delivered straight to your inbox at 7 a.m., Monday to Friday.
By clicking on the sign up button you consent to receive the above newsletter from Postmedia Network Inc. You may unsubscribe any time by clicking on the unsubscribe link at the bottom of our emails. Postmedia Network Inc. | 365 Bloor Street East, Toronto, Ontario, M4W 3L4 | 416-383-2300
Thanks for signing up!
A welcome email is on its way. If you don't see it, please check your junk folder.
The next issue of Sunrise presented by Vancouver Sun will soon be in your inbox.
"Also evident in the summer of 2022 was a notable reduction in services at Kits Pools and the outdoor pool at Second Beach," Christensen wrote in her motion. "Drop-in swimmers could not be accommodated due to challenges with lifeguard availability."
These shortage were attributed to earlier COVID-19 shutdowns of pools that meant course that lifeguards need to take to be certified could not be taken.
Also, water was turned off at the CRAB Park, Portside and Lumbermen's Arch spray parks. At the time, parks board issued a statement that the Lumbermen's Arch park was closed due to environmental concerns due to chlorinated water seeping into the nearby ocean. The CRAB Park and Portside spray parks were closed due to electrical upgrades.
"In order to avoid issues similar to those that arose in advance of and during the summer of 2022, it is vitally important that planning for the summer of 2023 in a timely manner happen to meet the board's mandate to deliver excellent parks and recreation opportunities for Vancouver," Christensen wrote.
Parks board staff must produce a briefing to the board next month outlining preparations to maintain outdoor pools and spray parks (including the earliest possible opening dates), how staffing requirements will be met and what the operating status is of all park board drinking fountains.
This past summer, parks board also closed all water features that did not recirculate water, drawing a negative response from some residents who use the facilities as a gathering spot on hot days.
Staff must then produce an plan in February 2023.