According to police, the incident is an example of the violence police officers face when trying to maintain public safety in an increasingly hostile area.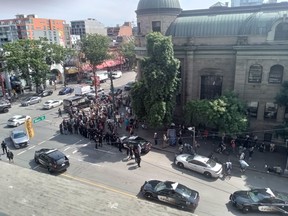 Several Vancouver police officers said Tuesday that downtown his East Responding to side disturbances, August 9, 2022. (Earl Webber/Submitted)

Photo by Earl Webber

/

Submitted
According to Vancouver Police: A woman has been charged with allegedly assaulting a police officer on the Downtown East Side in the latest example of the growing violence and hostility facing police officers in her neighborhood.
Aline West, 44, has been charged with assault with a weapon, according to Vancouver Police. She was subsequently released from her custody.
The incident occurred Tuesday afternoon as City of Vancouver staff instructed people to remove tents and other structures from sidewalks as ordered by the fire department.
Police did not have a role in removing tents, structures, or personal belongings, but the city requested that officers be stationed nearby.
Police later responded to another call from staff at the Carnegie Center on Main Street and Hastings Street about an "unruly" man destroying property and endangering others.
Seven police officers responded to the call from the community center, but were surrounded by several people who had gathered in the street to see city officials begin the process of clearing the sidewalks. and was assaulted.
"These officers were just doing their jobs. They were doing their duty to protect the public and arrest violent criminals," he said of the VPD. spokesman for Sgt. Steve Addison on Thursday.
"Carnegie Center is a gathering place for low-income and marginalized community members. and attempted to prevent them from being legally arrested."
Seven persons were arrested, three of whom were held in prison for disturbing the public order. .
According to police, three of him, including the man who was the subject of a call from the Carnegie Center, will appear in court at a later date.
chchan@postmedia.com
twitter.com/cherylchan
Sign up to receive daily headline news from the Vancouver Sun, a division of Postmedia Network Inc.
By clicking the Sign Up button, you agree to receive the above newsletter from the Postmedia Network. You can unsubscribe at any time by clicking the unsubscribe link at the bottom of any Inc. email. Post Media Networks Inc. | 365 Bloor Street East, Toronto, Ontario, M4W 3L4 | 416-383-2300
Thank you for registering.
Sending welcome email. If you don't see it, please check your spam folder.
The next issue of the Vancouver Sun Headline News will arrive in your inbox shortly.