…tickets go on sale from this Saturday
Pink Diamond Promotions is set to launch the highly anticipated "Daddy & Me" competition on June 18.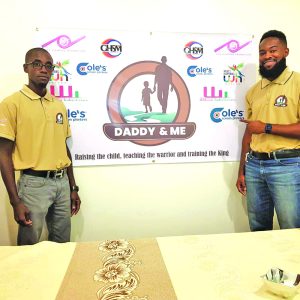 Founder of the event, Warren Wilson, and Events Coordinator Kade Pearce
This competition, being held in celebration of fathers, is creating quite a buzz as the date draws closer, with the action set to kick off at the Transport Sports Club Ground in Thomas Lands, Georgetown.
Founder of the event, Warren Wilson, has disclosed that the Organising Committee is on stream with everything leading up to the big day.
In an interview with this publication, Wilson was asked about the preparation, and he responded as follows: "In terms of the preparation, the Organising Committee is on stream, with everything getting ready so far. The tickets should be on sale from this Saturday (June 4), and it will only cost $1000, and children under ten will be (allowed in) free.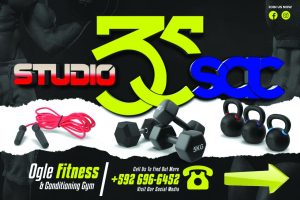 Ogle Fitness is one of the latest sponsors on board
"For the high points, we are trying – even though we know it is the first one – we are trying to make it fun and exciting as much as possible. Even though it might be a little challenging for the fathers and sons, we want to try to keep the fun aspect."
From this initial staging of the competition, Wilson is optimistic that bonds would be built between fathers and their sons.
In terms of the reception, he has noted that Wayne Forde, President of the Guyana Football Federation; Nicholas Fraser, who has been part of sports for some time; and many other persons have registered as participants.
"It's been really hard to get sponsors to come on board with this idea. I am not sure if it is because we are not a well-known group, but that is how it has been so far," Wilson has disclosed.
"Registration can be done through the Organising Committee; they can call me on 672-2719, or Kade, on 657-8793. We have extended the registration period, as we still want to encourage other participants to come on board, as we have not met our quota," Wilson explained.
Wilson is encouraging persons to come on board. He said those who would like to come and witness the action can look forward to getting the information this weekend when they uplift their tickets.
Added to the exciting camaraderie among fathers and their sons at the event, there will also be paintball, target shooting and archery. The competition will feature three categories: 7 to 9, 10 to 12, & 13 to 16, as they compete in several disciplines to be crowned champion. These events include tug-o-war, softball cricket and obstacle courses.
Fathers are required to pass a physical test to ensure their eligibility in the competition. The competition is open to all fathers. All eligible participants must attend cardio and aerobics sessions, which would be provided by the committee.
All participants must disclose any preceding health condition, and the Organising Committee reserves the right to refuse entry to any potential participant deemed unfit.
Among the sponsors on board are: What's Happening Guyana, Cole's Screen Printing, Trophy Stall, Fitness 53, Roraima, Kendallz Extreme Sports, Ogle Fitness, and GHSM Consumables.