…55 cops being trained to be bilingual
The Guyana Police Force Police (GPF) is stepping up its efforts by training its officers to speak more than one language. As such, the Force in partnership with the University of Guyana, on Monday launched the "Security Specific Language Programme", at the Officers' Training Centre, Camp Road, Georgetown.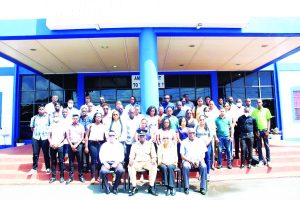 The Guyana Police Force officers and other officials
The foreign language training curriculum is aimed at enhancing their ability to grasp and understand the languages that will be taught from the beginner's level to a more advanced level.
Dean of the University's Faculty of Education and Humanities at UG, Dr Roslin Khan explained that the programme is at the same level that is currently being offered at the University of Guyana, and will focus primarily on three foreign languages: Spanish, Portuguese and Mandarin.
While the courses will have the same grammar structure as that is being done at the University, the contents and vocabulary are specialised for law enforcement personnel in Guyana.
Dr Khan further noted that the participants will be assessed throughout the duration of the training and upon completion, they should be able to read, write and speak in the various languages.
Each language course is expected to be eight weeks in duration, with participants attending five days a week for three hours daily.
Meanwhile, Deputy Commissioner "Administration", Calvin Brutus, who addressed the participants virtually, highlighted the importance of the language training in the course of core policing functions of safety and security as it relates to ranks who conduct anti-crime patrols, traffic ranks and those at the inquiry's office, who are the first line of contact with members of the public.
Brutus also referred to the increasing number of persons who speak foreign languages that these ranks come into contact with on a daily basis in Guyana.
"While the languages being taught will be at a beginner's level, they will provide the participants with the necessary language skills to interact with foreigners," Brutus said as he further highlighted that once participants are successful in the first phase, they will be afforded the opportunity to move to the next level.
"The Guyana Police Force intends to have the successful participants go on to the intermediary and eventually the advanced level in these foreign language courses," Brutus added.
Fifty-five members from the ranks of Sergeant to Constable of the various Divisions and Sections of the Force were selected as the first batch of participants to be a part of the programme.