In commemoration of India's 73rd Independence anniversary, the Indian High Commission on Thursday held a simple yet significant flag-raising ceremony at the Swami Vivekananda Cultural Centre.
In the presence of Indian officials and other invited guests, the recently accredited Indian High Commissioner to Guyana, Dr K J Srinivasa delivered an address by the President of India, Shri Ram Nath Kovind, on the eve of the country's Independence Day.
The Indian flag was hoisted on the lawns of the compound as the National Anthem of India was recited.
The High Commissioner mentioned that India's Independence Day is celebrated worldwide by Indians in the diaspora while noting the greatest potential lies in the people, rather than the Government.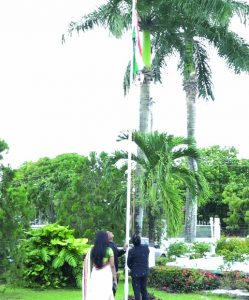 "While the Government inevitably has its part to play, I would argue that the greater opportunity and ability lies in the skill, talent, innovation, creativity and entrepreneurship of 1.3 billion Indians. These attributes are not new. They have kept India going and have nurtured our civilisation for thousands of years. There have been many times in our long history when our people encountered hardships and challenges. Even on such occasions, our society proved to be resilient."
Kovind would have acknowledged in his speech that cooperation is key in forging dependable diplomatic relations with other nations. While India has a steadfast economy, it has maintained good relations with many countries, including Guyana.
"The spirit of cooperation is what we bring to our diplomatic endeavours as well, as we gladly share our experiences and our strengths with partner countries in every continent. At home and abroad, in domestic discourse and in foreign policy, let us always be conscious of the magic and uniqueness of India," his address read.
India gained its independence from the United Kingdom on August 15, 1947. On August 15, 1947, the first Prime Minister of India, Jawaharlal Nehru, raised the Indian national flag above the Lahori Gate of the Red Fort in Delhi.
On each subsequent Independence Day, the incumbent Prime Minister customarily raises the flag and gives an address to the nation.