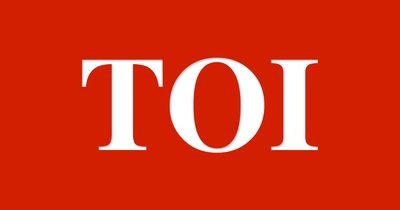 HYDERABAD: About three years ago, the Maulana Azad National Urdu University (Manuu) in Hyderabad rolled out a six-month certificate course in basic Urdu. One would imagine that it is targeted at beginners hoping to learn the language but as it turns out, it's for its own staff.
Reason? About half the faculty members at India's only Urdu university, cannot teach Urdu or other subjects in Urdu — a claim corroborated by a large section of scholars on and off the campus.
In fact, many say that Manuu's vice-chancellor, Mohammad Aslam Parvaiz's recent revelation about 40% of teachers not being competent in Urdu is only an under-estimation. "In reality, the percentage is much higher. Many of them have certificates to claim otherwise, but ask them to write two lines in Urdu and they'll fail," says a senior faculty member of the central university. "Being able to converse in Urdu does not make one worthy of holding a professor's post. Sadly, despite the course, not many have come forward to improve their skills."
As per its official website, Manuu's mandate, when set up in 1998, was to "promote and develop the Urdu language and to impart vocational and technical education in Urdu medium through conventional and distance modes".
Twenty-one years on, students say many of the courses are still taught with English textbooks. Worse, there is "little development" of the language on campus with all its study material — including translations — being sourced from outside the campus.
Those associated with the university say the authorities should have ensured that the Urdu textbooks are in place before starting courses in the sciences and other subjects. "All the 50-odd books that we have translated since the Directorate of Translations and Publications was created in 2016 are done by experts from outside. That's because I could not get anybody from the university to do so," the V-C told TOI. For distance learning courses, the material continues to be sources from B R Ambedkar Open University.
The chancellor Firoz Bakht Ahmed and Parvaiz don't see eye to eye on many issues but both agree on the missing Urdu skills. "I do not have data to confirm the V-C's claim, but if that's true, he is saying the right thing at the wrong time," Ahmed says. "He should have made public this issue four years ago when he took charge. "Going forward, it should be made mandatory for all teachers who don't know Urdu to clear a one-year diploma to be able to continue at the university."
The Chancellor also suggested that Manuu, while respecting its mandate for Urdu-medium education, be opened to other students as well, albeit with a rider — they clear a diploma in Urdu. "This will not only improve the enrolment numbers at Manuu and open better funding opportunities, but also work as a source of creating harmony across various communities."
Experts off-campus say recruitment through references needs to stop. "Merit alone should be the criteria for selecting staff. Also, to upgrade the standard of the institution, its faculty needs to contribute to international publications, write papers and take up translation works in-house. That's part of their mandate," said Mohd Suleman Siddiqui, former V-C of Osmania University and founding registrar of Manuu.